The Big Picture
Alan Moore's work for DC Comics in the 1980s, particularly on Swamp Thing and Watchmen, is highly regarded by fans and critics.
Moore left DC after being tricked into signing away the rights to his stories, feeling betrayed by the company he had collaborated with so successfully.
Moore demanded his name be removed from all adaptations of his work, costing him millions, and effectively ending any possibility of mending his relationship with DC.
Few comic book writers have received as much praise as Alan Moore, and even fewer have enjoyed such a contentious relationship with the entire industry. His work on such graphic novels as Watchmen, V for Vendetta, The League of Extraordinary Gentlemen, and Batman: The Killing Joke has seen Moore being listed as the greatest writer in comics, but despite his abundance of praise for the medium itself, his relationship with the companies controlling said medium has become extraordinarily bitter. In 2022, after years of speculation, Moore confirmed that he was retired from comics, stating that while he would "always love and adore the comics medium… the comics industry and all of the stuff attached to it just became unbearable." Given how much he has championed the comic book as a serious method of storytelling, it makes you wonder just what on earth happened to elicit this severe reaction. Well, there are a lot of explanations, but regrettably, much of the blame can be placed on DC Comics.
Alan Moore's Work for DC Is Highly Regarded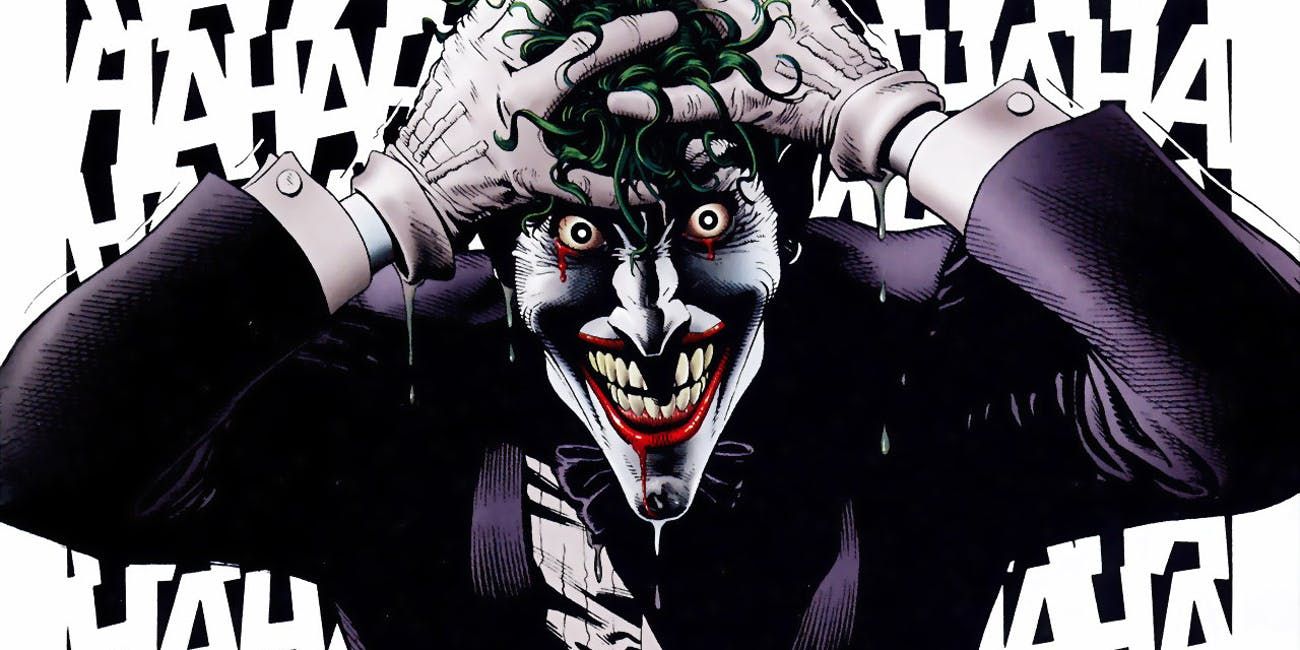 It's a shame that relations between Moore and DC deteriorated. Their fruitful collaborations throughout the '80s and '90s were the comic book equivalent of John Lennon and Paul McCartney or Mick Jagger and Keith Richards – a synergistic partnership of expertise and inventiveness that came about at the exact right moment, resulting in the finest works of their careers. Virtually everything Moore produced during this period is held in high regard by fans and critics alike, and considering the unparalleled levels of creative freedom he was afforded, one can't help but wonder why he would ever leave. The answer comes via two (somewhat predictable) words: money and copyright. The contracts for Watchmen and V for Vendetta had effectively tricked Moore into signing away any chance at possessing his own stories, and when combined with the meager percentage of the profits he had earned despite their enormous success, Moore pledged to never work with DC again. He did unintentionally find his way back in the late 1990s, but interference from DC's editors ensured that his return was short-lived. DC's subsequent insistence on bleeding his properties dry has removed any possibility they may bury the hatchet, providing a sad conclusion to an alliance that was once so bountiful.
Moore first caught the attention of DC Comics in 1983. At the time, Moore was primarily known for his work on various British anthologies like 2000 AD and Warrior where he contributed a number of stories like D.R. & Quinch, Marvelman, and V for Vendetta. His exploration of adult material proved enticing to the medium's aging readership, and he quickly acquired a growing reputation. Moore continued to write for these publications even after making the transition to the American comics industry – most notably with the pulp sci-fi strip The Ballad of Halo Jones – but as with most instances when he found himself having to contend with the mainstream, it didn't end on an agreeable note. Disputes with Fleetway Publications concerning the intellectual rights of Halo Jones (a character he'd created alongside artist Ian Gibson) saw her series canceled three books into its planned ten-book run, while low sales of Warrior magazine saw Marvelman and V for Vendetta suffering a similar fate (although both would later be resurrected under different publishers). Amazing creative ventures brought to their knees by monetary and artistic disputes – quite a harbinger of things to come.
RELATED: Alan Moore Doesn't Think His Work Can Be Truly Adapted—and He's Very Wrong
Thankfully, the quality of Moore's work prevented these issues from curtailing his career. One such person he impressed was Len Wein, a senior editor at DC Comics who was on the hunt for someone to take over the Swamp Thing comic. Wein – who had been a fan of Moore since encountering his work in 2000 AD – offered him the chance to pen the book with total free rein, and after a few hurdles during the negotiation process (Moore spent much of the initial phone call thinking it was a prank), he accepted. It didn't take long for the genius of this decision to become known. Moore's four-year tenure on The Saga of the Swamp Thing was an immediate critical and commercial success, and has since been hailed as one of the greatest comic book runs ever. Readers past and present have praised his utilization of the gothic horror framework to discuss mature themes like sex, the environment, and the human condition – a revolutionary approach that convinced DC (and the comics industry in general) of the viability of adult-oriented comics. Not just any writer could have reinvented a silly monster comic into the most humanist book in a company's arsenal, but then again, Moore isn't just any other writer.
'Swamp Thing' Kicked off a Collaboration With DC Comics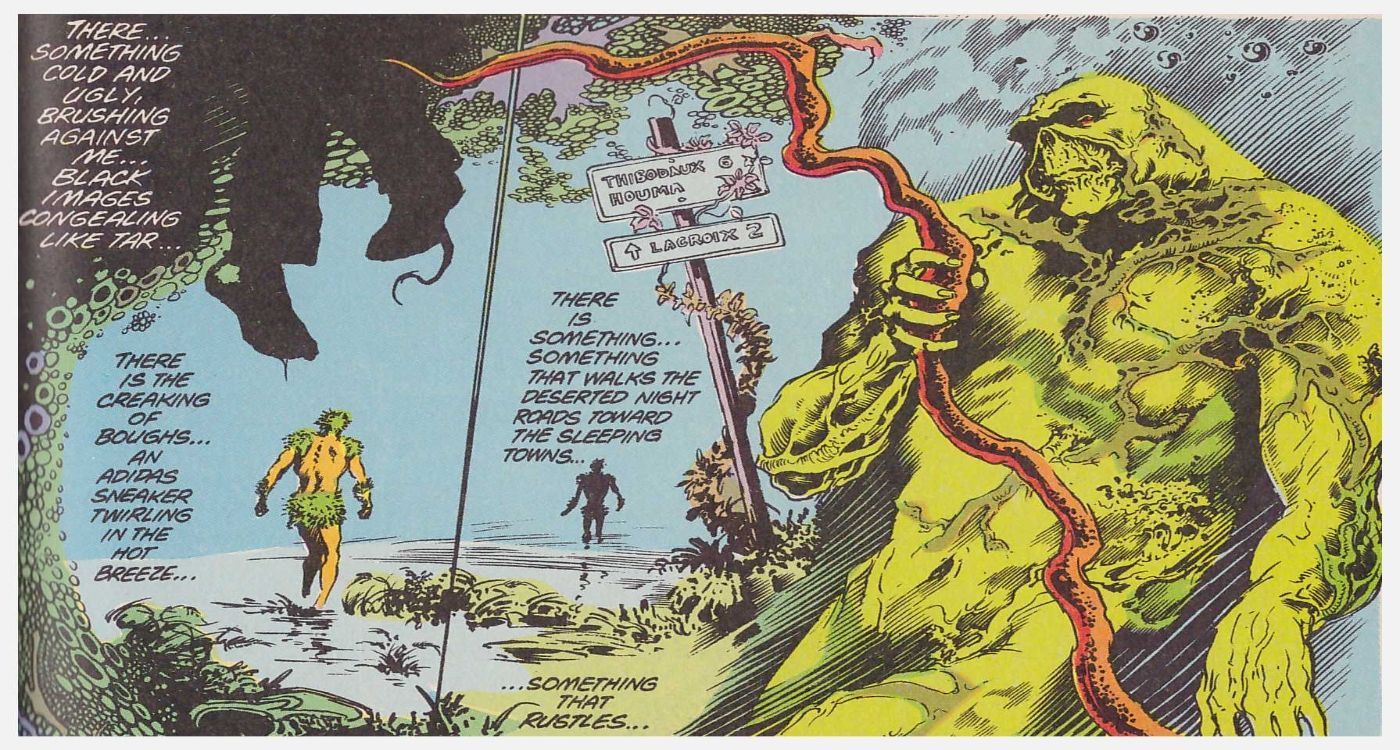 The success of Swamp Thing led Moore to produce a variety of stories for DC. Some of them like Omega Men and Vigilante continued his habit of taking lessor known properties and reconfiguring them for his own devices, while others saw him putting a unique spin on DC's most iconic heroes. "For the Man Who Has Everything," for example, had Moore taking a stab at The Last Son of Krypton himself for an empathetic tale about the hidden sorrows of being Superman – a topic he would return to a year later with "Whatever Happened to the Man of Tomorrow?" In comparison, Batman: The Killing Joke directed its gaze towards an archvillain instead, crafting a (possible) origin story for the Clown Prince of Darkness. Although it attracted criticism for its treatment of Barbara Gordon (something Moore has also expressed reservations about), it is now accepted as the definitive Joker story, and one that innumerable stories have taken inspiration from.
Of everything he wrote at DC, there is one that easily takes the pedestal as his magnum opus: Watchmen. It's a comic that needs no introduction and one whose unprecedented level of fame has practically made reading it a requirement for anyone interested in the medium. The concept of taking fantastical superheroes and displacing them in a world heavily inspired by Cold War era America was nothing short of genius, and provided Moore with the ideal platform to address hitherto unexplored subject matter that also dissected and satirized the entire genre. Moore had originally intended to use characters DC had inherited from Charlton Comics (among them, Blue Beetle and Peacemaker), but was persuaded otherwise due to the nature of Watchmen's storyline. The result was the strongest lineup of characters from any superhero comic, with Moore's novelistic writing synchronizing flawlessly with Dave Gibbons's dynamic illustrations. Expounding yet more praise onto something that is already drowning in accolades might seem pointless, but some works truly deserve it. Watchmen would go down as one of the best novels of the 20th century, and with it, Moore's future at DC was all but secure.
DC Tricked Alan Moore Into Signing Away His Stories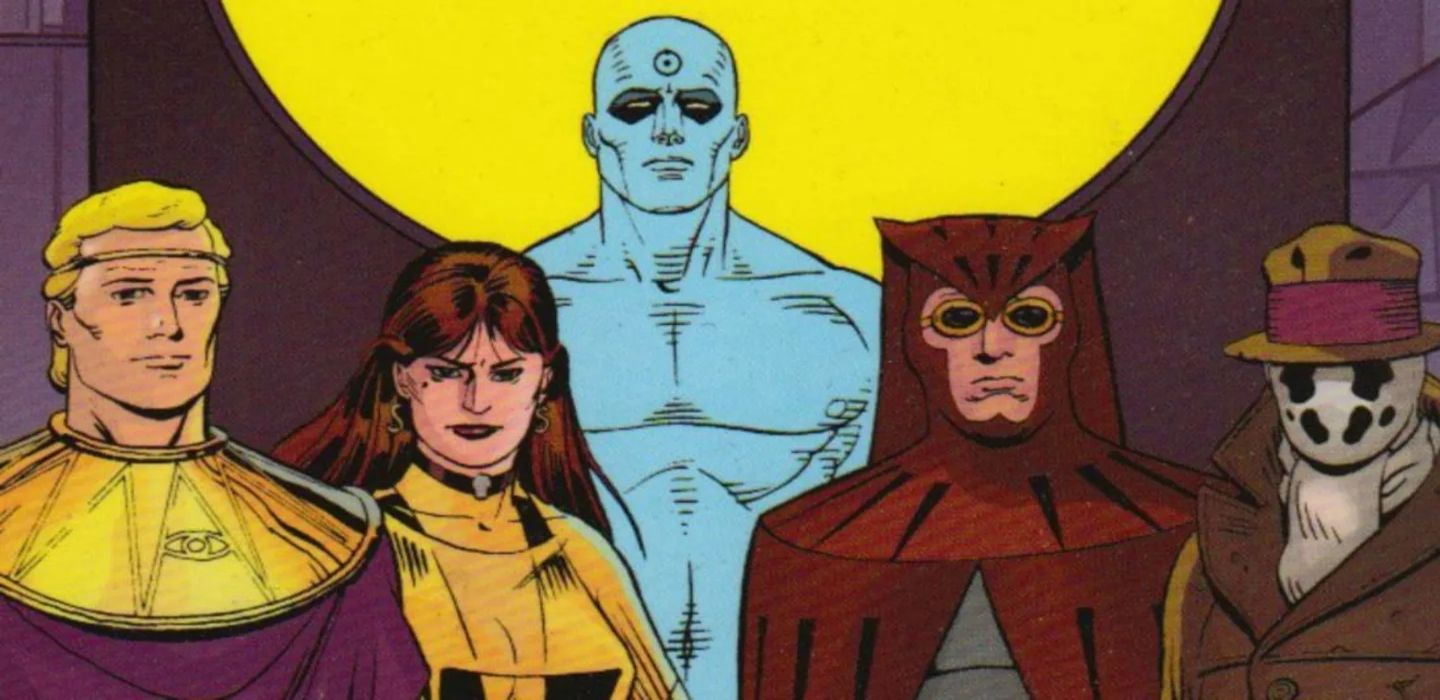 But the success of Watchmen proved to be a double-edged sword. The contracts that Moore had signed for Watchmen and V for Vendetta (which DC had begun reprinting in 1988) stipulated that the rights to both properties would be returned to him after they had been out of publication for a year – a normal contract for the time, and one that Moore found tolerable (in September 1986, the same month Watchmen #1 released, Moore told a crowd at the UK Comic Art Convention that he was "perfectly happy" with the arrangement). The problem was that DC had no intention of letting these comics go out of print, rendering the contracts mute. When Moore realized this, he was outraged. The company that had provided him with so many incredible opportunities had duped him into signing away his greatest works, with only a pittance of their royalties (eight percent, in the case of Watchmen, split between him and Gibbons) as compensation. Years later, Moore would recall his response to this information: "Fair enough. You have managed to successfully swindle me, and so I will never work for you again." He didn't take long to find the door.
RELATED: Who Is Blue Beetle in DC Comics?
Following his split with DC Comics, Moore returned to the independent corner of the comics industry. His output during this time proved just as laudable as before (albeit with a touch more controversy), with titles such as From Hell and Lost Girls continuing to assert his one-of-a-kind talent. Eager to pursue this further, Moore agreed a deal with Jim Lee in the late 1990s to create his own imprint entitled America's Best Comics. However, this was thrown into disarray when DC purchased WildStorm (ABC's parent company), leaving Moore at the mercy of his former rivals once again. After receiving assurances that DC would have no input on his work (nor would he ever have to communicate with them), Moore decided to stay… for a bit. Moore's autonomy was temporary, and soon his work was altered without his consent (most notably the removal of an era-accurate advertisement in League of Extraordinary Gentlemen #5 for a "Marvel Co." douche, which editor Paul Levitz interpreted as an attack on their primary competitor, Marvel Comics). Moore was infuriated, and by the mid-2000s, he had left once again.
Moore Demanded His Name Be Removed From All Adaptations of His Work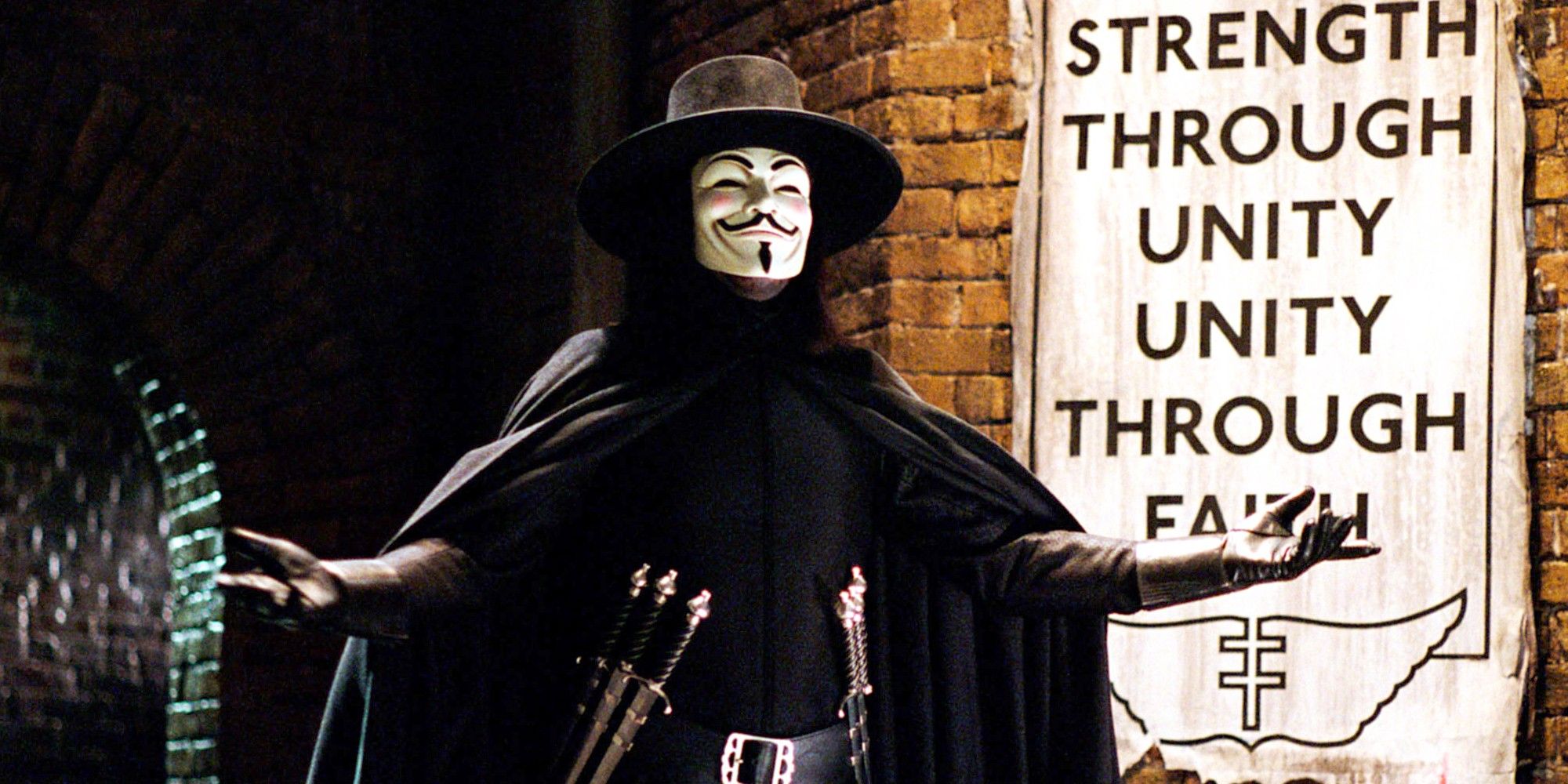 The final nail in the coffin came via Moore's most hated phrase: film adaptations. Moore has always derided such endeavors due to his wish to give comics "a special place" in the larger artistic world, but that wasn't going to deter Hollywood. While Moore was largely indifferent towards 2001's From Hell, the same could not be said of 2003's The League of Extraordinary Gentlemen. A few months after the film was released, a lawsuit was filed against 20th Century Fox accusing them of plagiarizing the idea from an unproduced screenplay from the 1990s, with the plaintiffs demanding $100 million in damages. The event forced Moore to testify at a deposition, and while the matter was settled shortly after, it left him with a sour temperament towards Hollywood. This mindset was solidified in 2005 when producer Joel Silver claimed that Moore was "very excited" about the upcoming adaptation of V for Vendetta – a quote that Moore decried as "a flat lie." After he failed to receive a public apology, Moore announced that he would no longer allow his name to be associated with any adaptations, nor would he accept any royalties. It was a decision that cost him millions, but for someone as steadfast as Moore, it was a price worth paying.
On the flip side, it also killed any possibility of mending his relationship with DC. Their recent commitment to squeezing every penny they can from his stories (with specific emphasis on Watchmen) has guaranteed – to the anguish of comics fans everywhere – that they will never join forces again. At the end of the day, it's hard to say who's in the wrong. There's no denying that Moore's contracts were creator hostile, but they were also standard for the time, and no one could have anticipated what cultural monoliths his works would later become. Moore's allergic reaction to the word compromise also wouldn't have helped, but that attitude is exactly what birthed such masterpieces. "There is not an amount of money large enough to make you compromise even a tiny bit of principle," as he summarized in a 2012 interview with LeftLion. Powerful words, but with DC's persistent desire to lessen Watchmen's impact with a plethora of continuations, one can't help but wish that Moore could become a tad more lenient in his beliefs.
on bbc news
on hindi news
on the news today
on channel 7 news
ôrf news
campo grande news ônibus
ôpera news
campo grande news greve de ônibus
l1 news horário dos ônibus
l1 news ônibus
lago azul news ônibus
news österreich
news österreich heute
news österreich aktuell
news öffentlicher dienst
news österreich corona
news öl
news österreich orf
news ö3
news österreich heute aktuell
news österreich sport
ö24 news
ölpreis news
öbb news
ösv news
österreich news krone
övp news
özil news
öffentlicher dienst news 2023
österreich promi news