Editor's Note: The following contains spoilers for Ahsoka Episode 4.
The Big Picture
Ahsoka suffers from a weak plot, one that relies on convenience and contrivance over meaningful character development, a problem that was apparent in Star Wars: The Rise of Skywalker.
The series prioritizes MacGuffins and plot machinations over substance, resulting in hollow emotional moments and juvenile dialogue.
Ahsoka's tendencies mirror the mistakes made in The Rise of Skywalker, including a lack of explanation for key plot points and an over reliance on nostalgia rather than original storytelling.
Let's admit the truth: Star Wars has never been a franchise that's affluent with plot. Lucasfilm's ambitious ideas have required good faith suspension of disbelief now and again. Certainly, George Lucas wasn't trying to reinvent the wheel with his amalgamation of classic adventure serials, Japanese samurai films, and Westerns. However, everything in the Original Trilogy from the window dressing to the emotional bonds coalesced into a captivating whole. The setting did favors as well: in 1977, space operas hadn't before featured wizards wielding glowing energy swords. As is the case with almost any narrative, if the makers infuse it with meaning and its characters with depth, and know how to properly utilize cinematic language, then audiences will happily hand wave a detail or two.
It's when a story's structure feels as limp as Twizzlers that the problems arise. One can't maintain goodwill when the hand wave-y details are consistent distractions. As divisive as the Prequel Trilogy and The Last Jedi were, they demonstrated intentionality and originality. In the Ahsoka series' exuberance to move the (filled with holes) plot along, Dave Filoni has chosen the dual paths of convenience and contrivance. MacGuffins and plot machinations matter more than character development to the point that the series' overarching feel is distracting and unfulfilling. For all that Ahsoka continues the narrative threads of Star Wars: Rebels and Star Wars: The Clone Wars, two series with a combined history of fifteen years, its emotional moments are off-puttingly hollow, its dialogue jarringly juvenile, and its arc too reliant upon nostalgia in place of substance. These, when examined as part of a larger whole, are the same mistakes that proliferated that bane of modern Star Wars content: The Rise of Skywalker.
RELATED: 'Ahsoka' and 'Star Wars' Need to Stop This Tired Trend
'The Rise of Skywalker' and 'Ahsoka' Prioritize the Wrong Things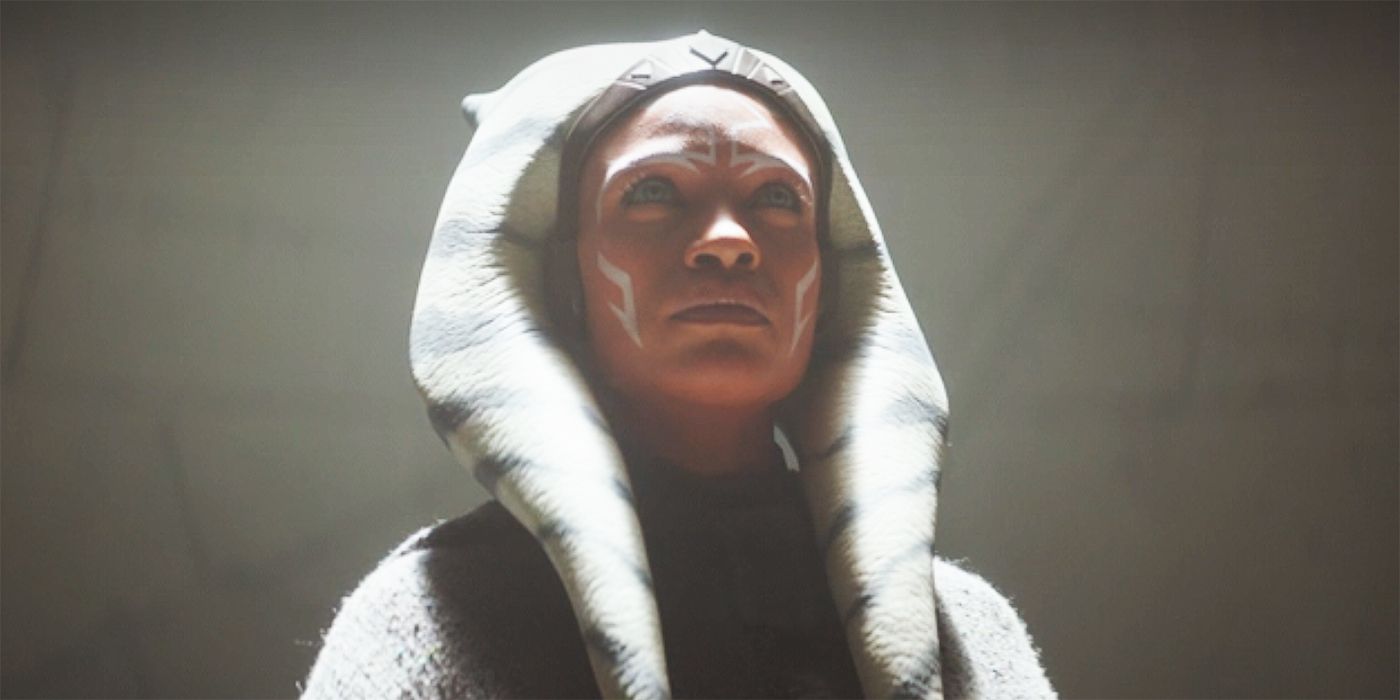 Time has yet to be kind to 2019's The Rise of Skywalker. Given the film's warranted backlash, it's unlikely the flexible arc of critical reevaluation will give it another chance. Ahsoka's soullessness isn't yet a carbon copy of J.J. Abrams' Sequel Trilogy culmination, which felt more akin to a script written by an AI; Dave Filoni cares about his creations, and his animation track record is golden. Nevertheless, Ahsoka's aggressively mediocre tendencies don't inspire confidence in its upcoming back half. Too many spiritual parallels to The Rise of Skywalker's underlying problems exist as well as a similar sense of aimless plotting, easy resolutions, and nostalgia-driven imitation. Such road bumps aren't even new to the world of live-action Star Wars television: see Seasons 2 and 3 of The Mandalorian. Just like Rise of Skywalker made everything too easy, so too does Ahsoka flatten everything to its detriment — an especially inexplicable choice on Filoni's part since the ending of Star Wars: Rebels gave him a galaxy of unfettered and unique material to play with.
Ahsoka's MacGuffin-ing of its main villain is perhaps the strongest parallel. A theory-fixated internet demanded answers to Rey's (Daisy Ridley) last name as soon as The Force Awakens dropped in 2015. Rian Johnson gleefully counteracted expectations by making her heritage of no consequence. Regardless of one's opinion on such a move, rather than retain that revelation and pursue its aftereffects, Rise of Skywalker director J.J. Abrams (co-screenwriting with Chris Terrio) retroactively restored Rey's bloodline to its egregious Mystery Box status. And in her hunt for Emperor Palpatine (Ian McDiarmid), her evil grandfather, Rey easily locates a tool that conveniently leads her to Palpatine's location. (When the two meet, cue cringe-worthy dialogue and excessive CGI.)
Hunting down a villain is Ahsoka's narrative backbone. It's not often a MacGuffin is a person, but that's what Ahsoka has made the regal Grand Admiral Thrawn (Lars Mikkelsen): an "object, event, or character in a film or story that serves to set and keep the plot in motion despite usually lacking intrinsic importance." Hopefully, Thawn demonstrates three-dimensional traits once he arrives, but Ahsoka has both oversimplified a menacing situation and bogged itself down. Plus, a pursuit led by three underdeveloped characters and resisted by heroes who fell asleep at the wheel isn't an auspicious start. Where are the stakes when nothing needs a reason?
Then there's that darn map. Just like The Force Awakens and The Rise of Skywalker, Ahsoka revolves around a map inexplicably imbued with Thrawn's location. The device charts ancient purrgil migration patterns, but why is Morgan Elsbeth (Diana Lee Inosanto) so certain this is The One with Thrawn's coordinates? It's never explained; it just is because the plot demands as much. For a problem Filoni made a whole series to solve, "Where's Waldo!Thrawn" is resolved with astonishing speed and ease. Instead of logical explanations or watching the characters work to find answers, Ahsoka offers middlingly lighted lightsaber duels that boast great choreography and lack purposeful emotion. Likewise, Rise of Skywalker's conveniences were a triptych and then some: Palpatine's unexplained return, a fleet of Star Destroyers from nowhere, and surprise healing powers that drained Ben Solo (Adam Driver) of his life rather than explore how his survival would play out.
'Ahsoka' Does Too Much Telling and Not Enough Showing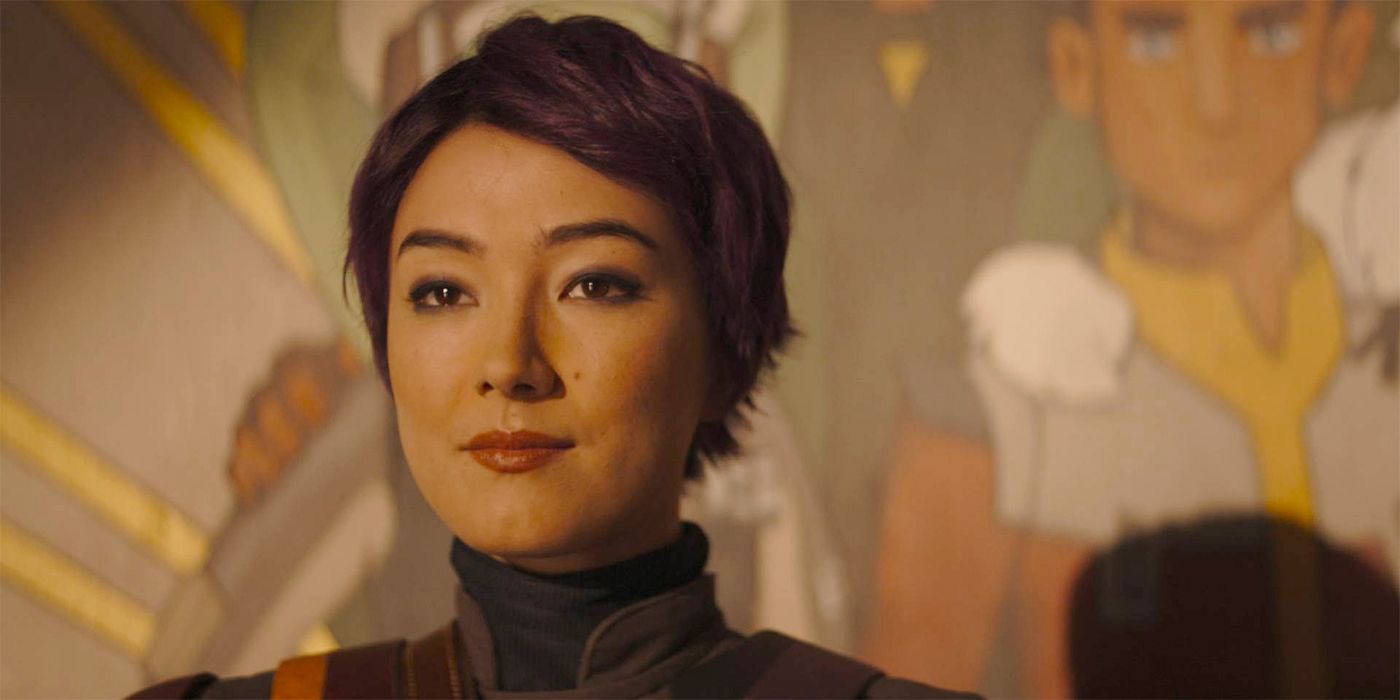 The Rise of Skywalker and Ahsoka's hand waving speaks to a larger problem: justifying "just because" as acceptable screenwriting. Rather than committing to Rey's feelings about her heritage, Rise of Skywalker had big "be distracted by the lightsaber duels" energy. A line of MacGuffins facilitated Rey's easy trek to Palpatine; Ben rejected the Dark Side in a blink; don't question it! Certainly, Dave Filoni wouldn't have brought back Ahsoka Tano (Rosario Dawson) and the Rebels characters if he lacked affection for them. So why isn't Ahsoka taking the time to rest in their emotions? Ahsoka, Sabine Wren (Natasha Liu Bordizzo), and Hera Syndulla (Mary Elizabeth Winstead) discuss their feelings in distant terms. The one thing Ahsoka does explain is how everyone feels but without nuance. It's an "anvil to the head" way as if Filoni thinks the audience won't comprehend subtle character work and gradual development without hand-holding. It's also classic "telling" instead of "showing," leaving themes messy and the characters thin, especially given Ahsoka's semi-scattered pacing. Rushing past heavy-duty emotional motifs and providing easy outs for plot weakens the story's potential.
Speaking of dialogue: Ahsoka even repeats the modern Star Wars trend of oddly stilted, weak scripts. (Yes, A New Hope had awkward mouthfuls; no, that isn't an excuse.) Rise of Skywalker, as we know, birthed the worst line in Star Wars history: "Somehow, Palpatine returned." Those three words aren't just a hand wave, they're an indication the writers weren't interested in explaining. If Sabine has to tell Ahsoka "I'm ready" when the visuals cue the same sentiment, then a "somehow, Thrawn returned" moment wouldn't be too off the mark.
In general, Ahsoka has made everything too easy, especially compared to the finely woven story threads of Star Wars: Rebels. Of course, it's worth considering that Ahsoka has eight episodes to work with versus Rebels' four hearty seasons. Limited time, however, means one must use that limited time wisely. Instead, just like Rise of Skywalker, Ahsoka meanders into odd side streets and then takes shortcuts where attention is needed most. Between the map to Thrawn removing all mystery, Ahsoka finding the map and Sabine opening it with ease, Sabine surviving a lightsaber stabbing, her swift surrendering of the map to Baylan Skoll (Ray Stevenson) in a snap — instead of understanding how the two elements complement and work together, the trend of prioritizing plot goals over character evolution continues.
'Ahsoka' and 'The Rise of Skywalker' Chose Nostalgia Over Story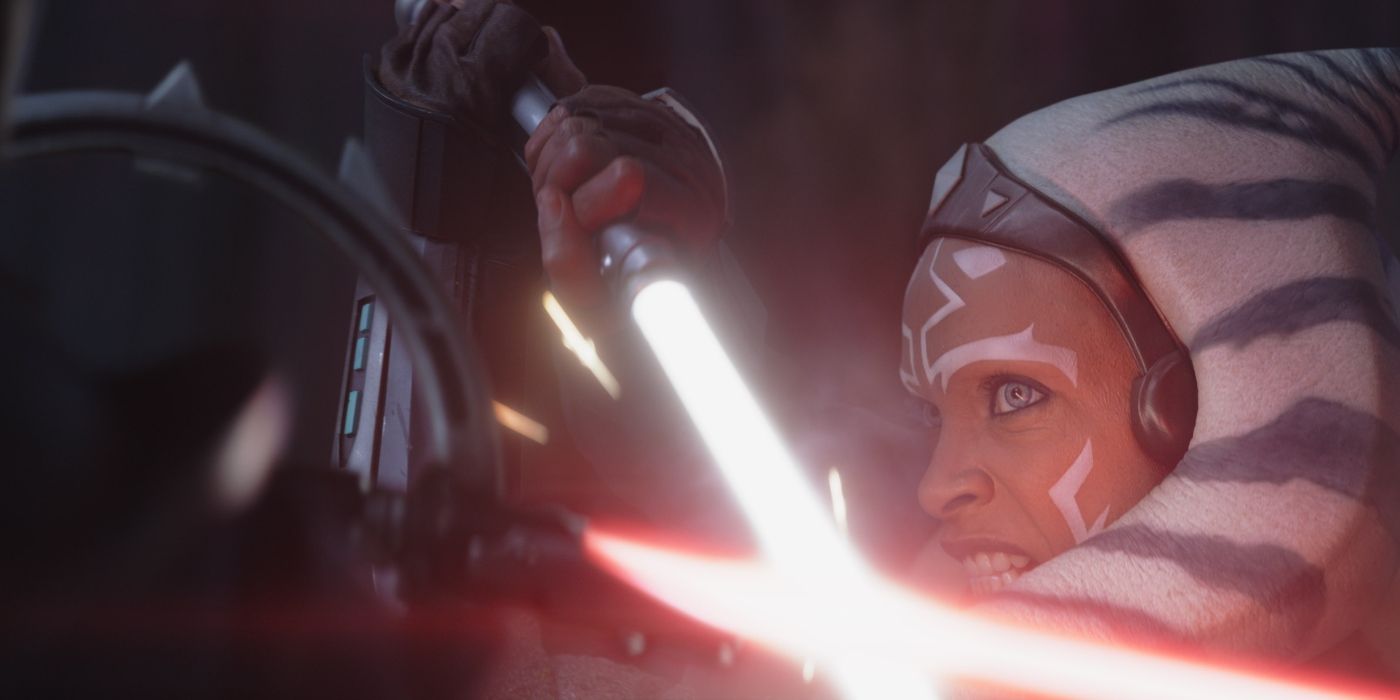 Nostalgia isn't automatically bad. If its indulgence is meaningful and earned, then it's respecting its franchise's legacy. When nostalgia becomes the driving force for stale narrative choices, that's when things fall apart. Palpatine was the biggest example in Rise of Skywalker: recycling a villain for convenience and marketing. The film couldn't escape Return of the Jedi's themes (redemption), objects (the Death Star ruins), and locale (that baffling trip to Tatooine).
Rebels might be some of the best material Lucasfilm has produced, but jumping its story threads into another medium without pause provides no room for casual Star Wars fans. (How and why is David Tennant's Huyang even here?) Conversely, if you loved Rebels, Ahsoka's reliance on surface-level objects, names, and character appearances feels like a hollow way to earn fans' emotional response. I approach Dave Filoni's intentions with good faith, but a relevant event like Anakin Skywalker (Hayden Christensen/Matt Lanter) and Ahsoka's reunion in Rebels' "Twilight of the Apprentice" was earned — a moment symbolic enough for Obi-Wan Kenobi to mimic. Time and again media has proven that appealing to viewers with nostalgic domination isn't a strong enough structure for something to stand on its own two feet.
Perhaps Ahsoka's weaknesses were sadly inevitable. The "this is happening because I say so" philosophy at the expense of characterization also repeats The Mandalorian's worst tendencies. Unlike Rebels' meticulous character-focused plotting, where errors were contained to a minimum, Ahsoka's oddly directionless — beyond the overwhelming rush to Get To Thrawn Already, that is. Perhaps Dave Filoni's strongest traits as a storyteller — which have been remarkably creative and soulful — don't translate into live-action. At Ahsoka's midway point, I've read fanfiction with better premises and execution. Star Wars tried to read the room post-Rise of Skywalker but didn't learn that failure's most vital lessons. Even with its fun moments and pitch-perfect casting, almost everything in Ahsoka is unwarranted, messy, and too contrived by half while sacrificing necessary, meaningful character growth.
on bbc news
on hindi news
on the news today
on channel 7 news
ôrf news
campo grande news ônibus
ôpera news
campo grande news greve de ônibus
l1 news horário dos ônibus
l1 news ônibus
lago azul news ônibus
news österreich
news österreich heute
news österreich aktuell
news öffentlicher dienst
news österreich corona
news öl
news österreich orf
news ö3
news österreich heute aktuell
news österreich sport
ö24 news
ölpreis news
öbb news
ösv news
österreich news krone
övp news
özil news
öffentlicher dienst news 2023
österreich promi news