I don't want to brag, but my sister and I think of ourselves as somewhat seasoned co-op professionals. We grew up playing games together, turning games which weren't even meant to be played in co-op into multiplayer experiences (like splitting a controller in half to play Tekken 3's Force mode). So when I heard about KallaX, a co-op game about aliens building furniture in space, I wondered whether we'd be able to master the art of assembly.

You see, KallaX gives you instructions like you'd expect of its Swedish namesake (Kallax are those cube shelving units sold by IKEA that have practically invaded every house on the planet), but only one person can look at the manual at a time. No crowding around an A5-sized booklet and bumping shoulders to figure out minimalistic diagrams, but a real test of communicating effectively.

We've played peaceful co-op games before, puzzlers like Death Squared and Portal, timed stressful ones (Overcooked, Unrailed, you name it), and escape rooms with an asymmetric flavour, but we've never tried a game with those three things combined. I wasn't sure how those elements would pan out together and whether it would click with us.

After playing the first 20 levels of KallaX, we definitely found our rhythm. The game starts you out on a series of easy tutorial levels to get you used to the controls. Press A to hold a piece, press X twice to connect two pieces together. If you make a mistake, you can disassemble the furniture by chucking it into the designated bin window and watch it float into space.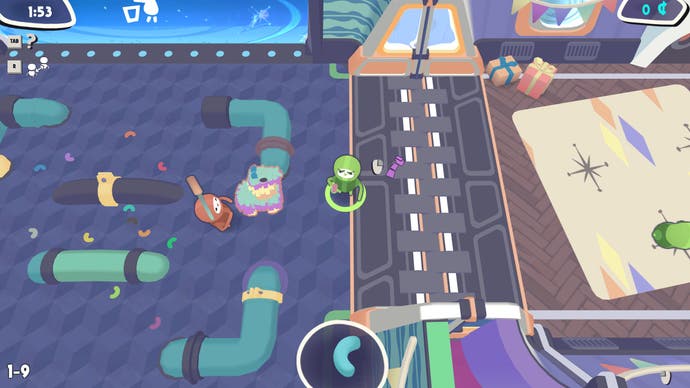 The first furniture designs the game introduces you to are simple enough. Some like the small stool or tall lamps don't require any customisation, whereas things like tables and cabinets will need to have a certain pattern. We quickly devised our language to describe what was needed – "short legs", "dark inside", a tally of jelly beans placed inside a piñata – and things were going pretty smoothly.

But then they gave us cushions for chairs and sofas, and I started to really see the challenge. Cushions of different shapes and patterns are available, but translating the ones shown on the visual instructions into words was far more difficult than I had anticipated. Eventually my sister and I developed a system of little jobs – she handled the cushions whilst I set about putting dowels into holes and nailing bits of wood together, and then we'd work together to do the finishing touches.

And then the game asked us to make cat trees, and we had to recreate our system. Rules were set up, mostly don't preemptively put dowels into random holes because it's likely to be wrong on my part, but we had to learn the possible patterns the cat tree table could have, and which directions all of its separate components could be oriented in.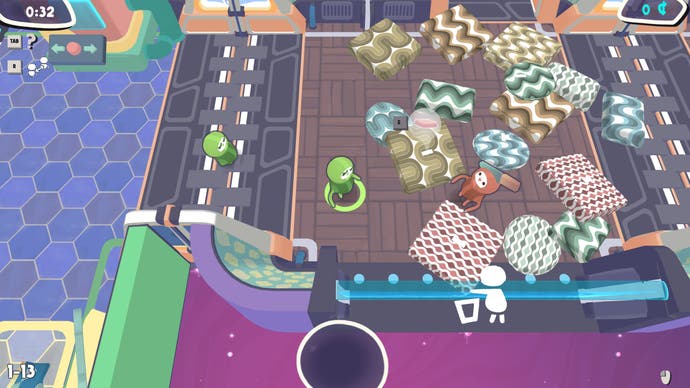 It was difficult at first, but once we got the hang of what we needed to take note of, it was really satisfying to hand in a correctly assembled tree and get our 400 cents for our hard work. (Simple wooden stools are worth about 30 cents, space aliens are also severely underpaid for manual labour it turns out.)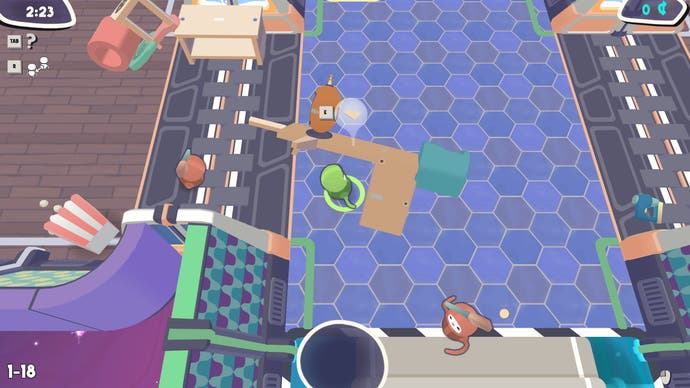 The KallaX experience with two players is far more different than it is with three or more. With two players, you each have two little aliens to control, resulting in the ability to essentially do four different tasks at once. It's necessary to play the game, as for some things you really do need more than two players to complete a level, but I also couldn't help but feel like we were cheating the game a bit. My sister could be reading the manual and then switch back to her other alien to check on what I had assembled and say directly whether it was correct, removing the need for clear communication.

But on the other hand, we never play co-op games to just be good, we play to master them and any strategy the game allows us to use is a legit one in my books.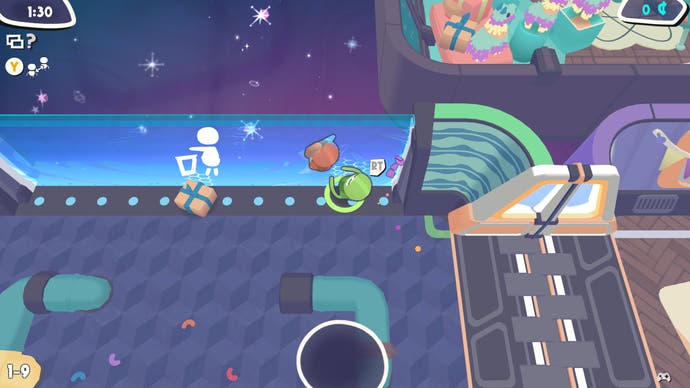 The potential for pure chaos is definitely there in KallaX. We experienced it once we played with a friend and decided to muck around a bit. Silly object physics made the various bits flip around into unhelpful positions, and it was very easy to accidentally pick someone else up or yeet things off a ledge, but it never felt frustrating or unfair. It's just a bunch of brightly coloured blobs fumbling around to make furniture and maybe throwing each other into the void of space. I can't say that putting together IKEA furniture is as fun in real life.

I enjoyed playing KallaX with three players to let off some steam and have a laugh with friends, but what I'm really looking forward to is progressing through KallaX's levels with my sister. I want to see what ridiculous items the game asks us to make next. After the cat tree, I feel like I could handle anything.

on bbc news
on hindi news
on the news today
on channel 7 news
ôrf news
campo grande news ônibus
ôpera news
campo grande news greve de ônibus
l1 news horário dos ônibus
l1 news ônibus
lago azul news ônibus
news österreich
news österreich heute
news österreich aktuell
news öffentlicher dienst
news österreich corona
news öl
news österreich orf
news ö3
news österreich heute aktuell
news österreich sport
ö24 news
ölpreis news
öbb news
ösv news
österreich news krone
övp news
özil news
öffentlicher dienst news 2023
österreich promi news