Summary
1965-66 was a monumental year for the Fantastic Four, with the introduction of major new characters like the Inhumans and Black Panther.
"This Man…This Monster" is a one-shot story in which Ben Grimm is replaced by a villainous imposter, who restores Ben to his human form while becoming the monstrous Thing himself.
While intending to use his appearance as the Thing to sneakily kill Reed Richards, the villain is so inspired by Reed's goodness, that he instead sacrifices his own life to save him, showing the humanity that Kirby and Lee were promoting in the book.
"To Quote a Phrase" is a feature where I spotlight memorable quotes from comic books. Today, we look at a nameless Fantastic Four villain discovering the true message of "This Man…This Monster."
October is a Month of To Quote a Phrase, both here and at Pop Culture References!
1965-66 was an incredibly unusual year for the Fantastic Four because of a publishing decision that Martin Goodman had made. Jack Kirby, the brilliant plotter/co-plotter and artist of the Fantastic Four had come up with a number of new characters with the intent of the characters debuting in their own comic book series. Goodman, though, went back on that plan, and so instead, Kirby had all of these new characters and all he could do was simply (well, not SIMPLY, of course) merge all of those characters into the pages of Fantastic Four.
Because of that, 1965-66 was an astonishing year for the Fantastic Four, with every other story arc introducing major new characters like the Inhumans and Black Panther. That's on top of the characters newly introduced for the book unrelated to Kirby's characters intended for their own books (The Inhumans and Black Panther), Galactus and Silver Surfer, who were introduced in one of the most famous storylines of all-time in "The Coming of Galactus." So they introduce the Inhumans in an awesome story, then they do "The Coming of Galactus." Then they introduce the Black Panther and, sort of tucked in between those stories is Fantastic Four #51 (by Jack Kirby, Stan Lee and Joe Sinnott), "This Man…This Monster," one of the greatest one-shot stories in superhero comics history.
RELATED: Alfred Explains What Batman Means to Him After Batman's 'Final Case'
What was "This Man…This Monster" about?
"This Man, This Monster" is about a jealous scientist (unnamed, at least in this story. Later writers would give him a name because no one can ever leave a story alone) who hates Reed Richards because he feels that Reed does all of his exploration and scientific discoveries because he is a glory hound (which might seem that way to an outsider – the guy DID name himself "Mr. Fantastic," after all). He then decides to eliminate Reed by switching places with the Thing through some power-switcher thing.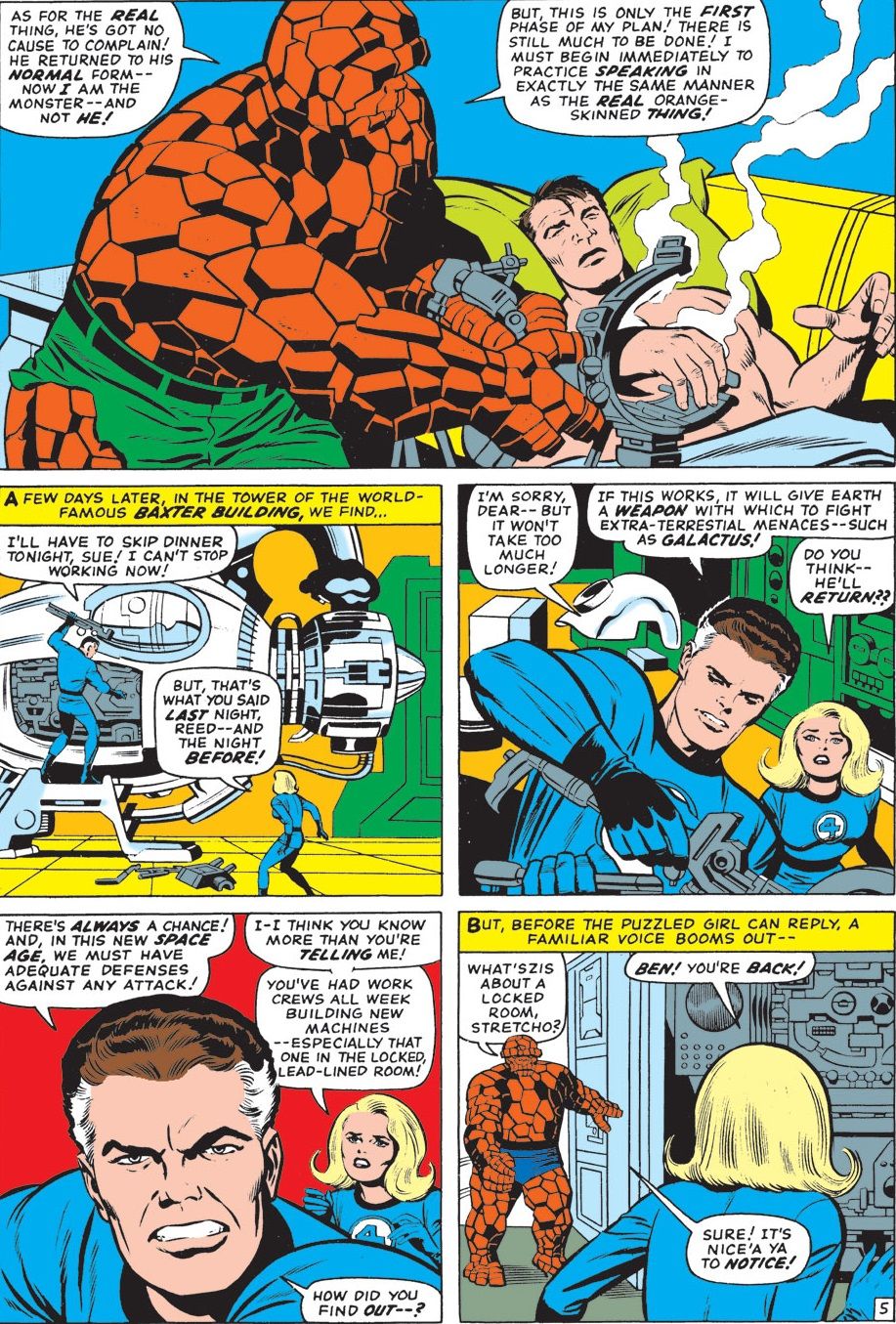 Obviously, a key part of the Fantastic Four's story to this point was when the heroes crashed on a test flight after being exposed to cosmic rays, all four people got superpowers, but three of the four (Reed Richards, Sue Storm and Johnny Storm) received powers while maintaining their human appearances, while Ben's powers came with a transformation into a monstrous being, reflected by him adopting the superhero name of "The Thing." So a recurring subplot was Reed trying to get Ben to become human again (as Reed feels awfully guilty about Ben being deformed because of Reed's failed test flight), but also Ben adjusting to his monstrous appearance. He began dating the blind sculptor, Alicia Masters, who could appreciate Ben's inner beauty due to, you know, being blind.
So therefore, this villain's plot serves to put Reed in danger while also making Ben's dreams come true! Of course, Ben is such a hero, that he can't enjoy his seeming good fortune, as he tries to get the impostor removed, but no one believes him. He's not too pleased about that, but at least he can see his girlfriend as a "man" for once. The "man" and "monster" stuff is obviously very intentionally used throughout the issue. When the villain takes Ben's place, he explains that HE is the monster now, but obviously, between the two, he was ALREADY the "monster," since he was a jerk who wanted to kill Reed Richards out of jealousy, while Ben was always more of a "man" than anyone, as he was a true hero.
RELATED: Captain America Had Some Strong Words For Baron Zemo When They Met Again
What lesson was learned in "This Man…This Monster?"
Reed goes on a mission in the Negative Zone (introduced in this issue, if you needed MORE historic stuff. Oh, and Wyatt Wingfoot also debuts in this issue), and already, the scientist is shocked that Reed is doing this all without any publicity or thought of his own safety, which is not what he expected from Reed. Finally, though, while on the mission, something goes horribly wrong, and Reed's safety line is broken. The scientist could easily just let Reed die, and no one could even blame him. Instead, he finds himself inspired by Reed's sacrifice, and follows Reed into the Negative Zone.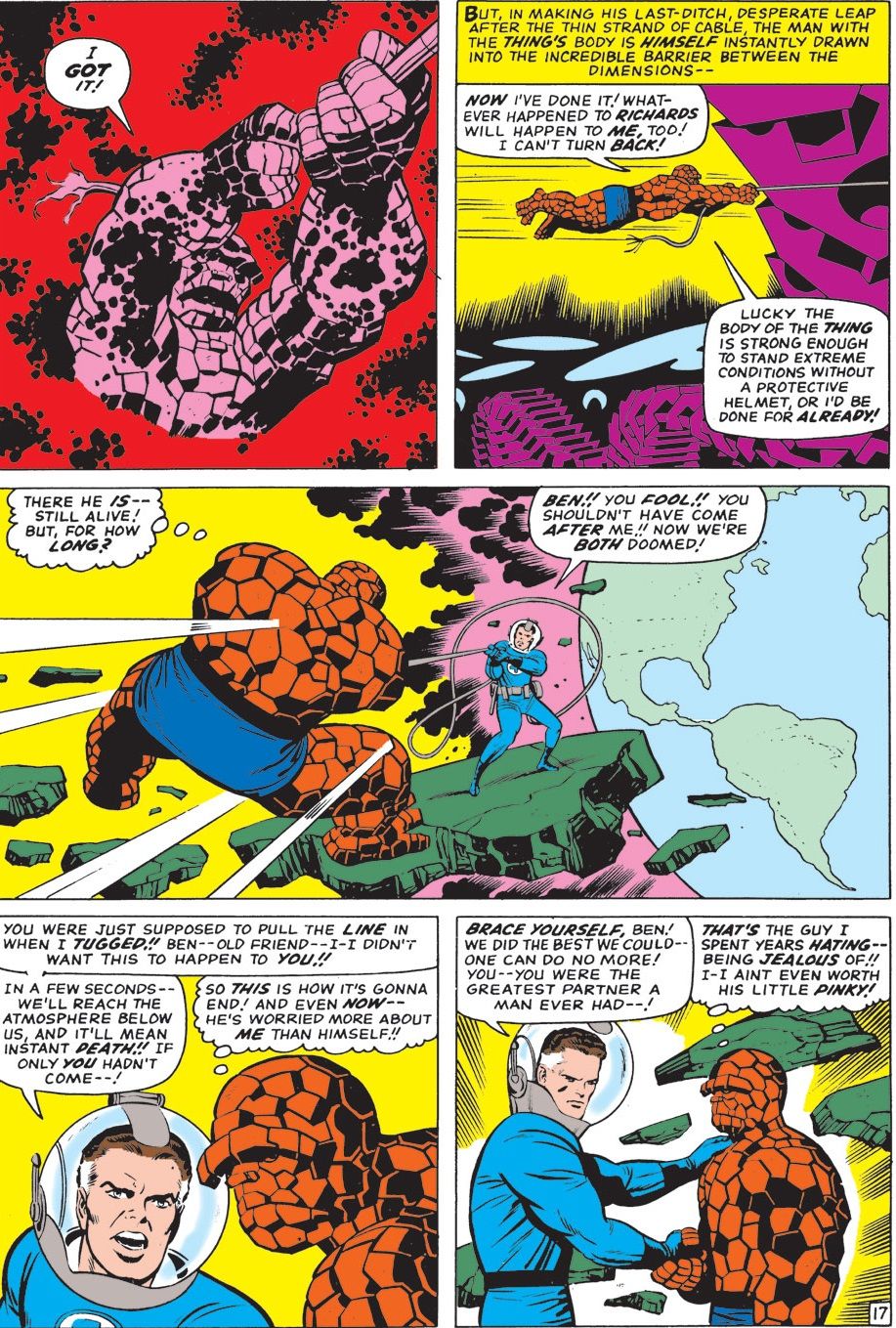 Reed is a good guy to him, again, even while facing certain doom, so the scientist decides to save Reed's life at the cost of his own…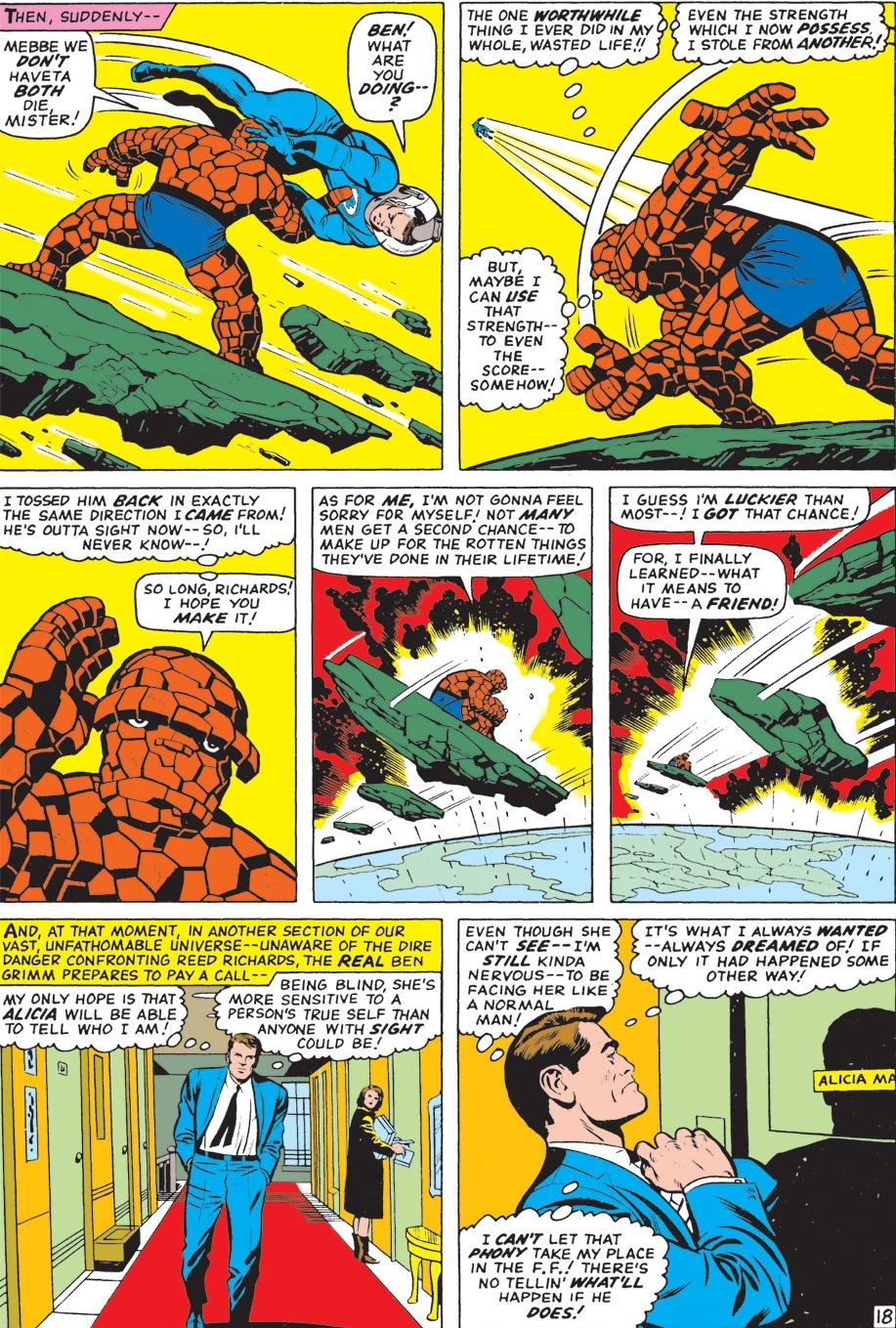 As you can see, Ben is about to see Alicia as a human for the first time, but right as he opens her door, the bad guy dies, and the switching effect is reversed. A despondent Ben has a great line about whether "Ben Grimm" is just a dream, but whatever, he's used to it by now, so he goes to check in with his friends to see what happened. When he arrives, of course, THEY think that it was BEN who just died, and his return makes them feel happy (he's shocked by how emotional Reed is over the loss of Ben).
While Ben is still angry at the bad guy, Reed explains that whatever monstrous things that guy had done in the past, and whatever monstrous plans he had for them, he ultimately redeemed himself, "he paid the full price… and he paid it like a man!"
That last quote is the quote we're spotlighting, of course, and it was such a wonderful summation of the humanity that Kirby and Lee were pushing with this book. A bit ham-fisted, of course, but still excellent.
Okay, folks, if you care to suggest cool comic book quotes that you'd like to see spotlighted here, drop me a line at brianc@cbr.com. There's a decent enough chance that if you think the quote in question is super cool, than I, too, will find it super cool and feature it here. Not a 100% chance, though, of course. Let's say roughly a 60% chance.
on bbc news
on hindi news
on the news today
on channel 7 news
ôrf news
campo grande news ônibus
ôpera news
campo grande news greve de ônibus
l1 news horário dos ônibus
l1 news ônibus
lago azul news ônibus
news österreich
news österreich heute
news österreich aktuell
news öffentlicher dienst
news österreich corona
news öl
news österreich orf
news ö3
news österreich heute aktuell
news österreich sport
ö24 news
ölpreis news
öbb news
ösv news
österreich news krone
övp news
özil news
öffentlicher dienst news 2023
österreich promi news