In every Look Back, we examine a comic book issue from 10/25/50/75 years ago (plus a wild card every month with a fifth week in it). This time around, we head back to August 1948 to see Vicki Vale, Batman's answer to Lois Lane, make her comic book debut.
As I've said many times over the years, to the point where I get that I'm a broken record on this topic (but, well, come on, man, it's an important topic), is that the comic book industry, just like TV and films, is very often a monkey-see-monkey-do setup, so when one thing works out, there will be countless imitators. And honestly, that's cool, as very often, it's the implementation of the idea that really is the most important thing than the basic idea itself. How many great riffs on Superman have there been over the years? MANY, right? Stephen Sondheim's Follies is an excellent music, it doesn't matter that the songs for the shows were all pastiches of different composer' styles.
With that in mind, though, it is pretty hilarious when creators at the same comic book company crib concepts from each other, and one of the most notable examples occurred 75 years ago in August 1948's Batman #49 by Bill Finger, Bob Kane, Lew Sayre Schwartz adn Charles Paris, when they decided that, hey, if people liked Superman and Lois Lane's deal so much, why not just do the same with Batman and a new female reporter character named Vicki Vale?
RELATED: 50 Years Ago, Captain Marvel Underwent a Cosmic Metamorphosis to Face Thanos
What unusual arrangement did Bob Kane have with Lew Sayre Schwartz?
Bob Kane famously worked out a sweetheart deal with DC (then National) where the company, in effect, had to buy as much of his Batman work as he could produce, and at a particularly high page rate (I mean, I don't think it was exorbitant or anything like that, it was just more than the company was paying other artists).. It was part of a general arrangement the company signed with Kane that almost certainly revolved avoid Kane agreeing not to ever sue DC for the copyright of Batman, unlike Jerry Siegel and Joe Shuster with Superman.
Kane had mostly stopped drawing the Batman comic books to concentrate on the Batman newspaper strip, and Kane had a good deal on the comic strip, as well, so it all worked out for Kane to do the strip instead of the comics (and, like any comic book artist of his generation, a guy like Kane would have much preferred to be a comic strip artist than a comic book artist if he had the choice). Once the comic strip ended, though, Kane had to go back to drawing the comics around 1945. So Kane continued to produce Batman stories for DC, roughly one a month. How much of these stories were being saved by Kane's inkers? I have no idea.
Eventually, though, Kane came up with the idea of hiring the talented artist Lew Sayre Schwartz to draw the stories FOR him (with Kane still providing the Batman and Robin figures in the stories, to, I guess, A. prove that Kane was still drawing the stories and B. Perhaps just to make Kane feel better about this deal? I really don't know his motivations as to continue to draw the figures during this era). Schwartz was a much faster artist than Kane, and so now, suddenly, instead of Kane producing 12 stories a year, Schwartz/Kane were doing TWENTY stories a year, and Kane's contract provided that DC accept as many pages as he provided, so now suddenly DC had to pay out a good deal more than it was previously paying. It was good enough money that it was worth it for Schwartz to likely get less than half what Kane was getting on the pages.
This story was very early in the Kane/Schwartz partnership (Charles Paris did the inks on the finished pencils).
RELATED: 25 Years Ago, Spider-Girl Swung Into Her First Series
How did Vicki Vale make her debut?
One of the fascinating things about Vicki Vale's first appearance is that it also includes the first appearance of the Mad Hatter, a lesser Batman Rogue, but ENOUGH of a Rogue that it is interesting that he makes his first appearance as basically an afterthought. Vicki Vale is sent to take Bruce Wayne's photograph for a society feature in Picture Magazine. Bruce flirts with her heavily when Mad Hatter interrupts the session for a robbery…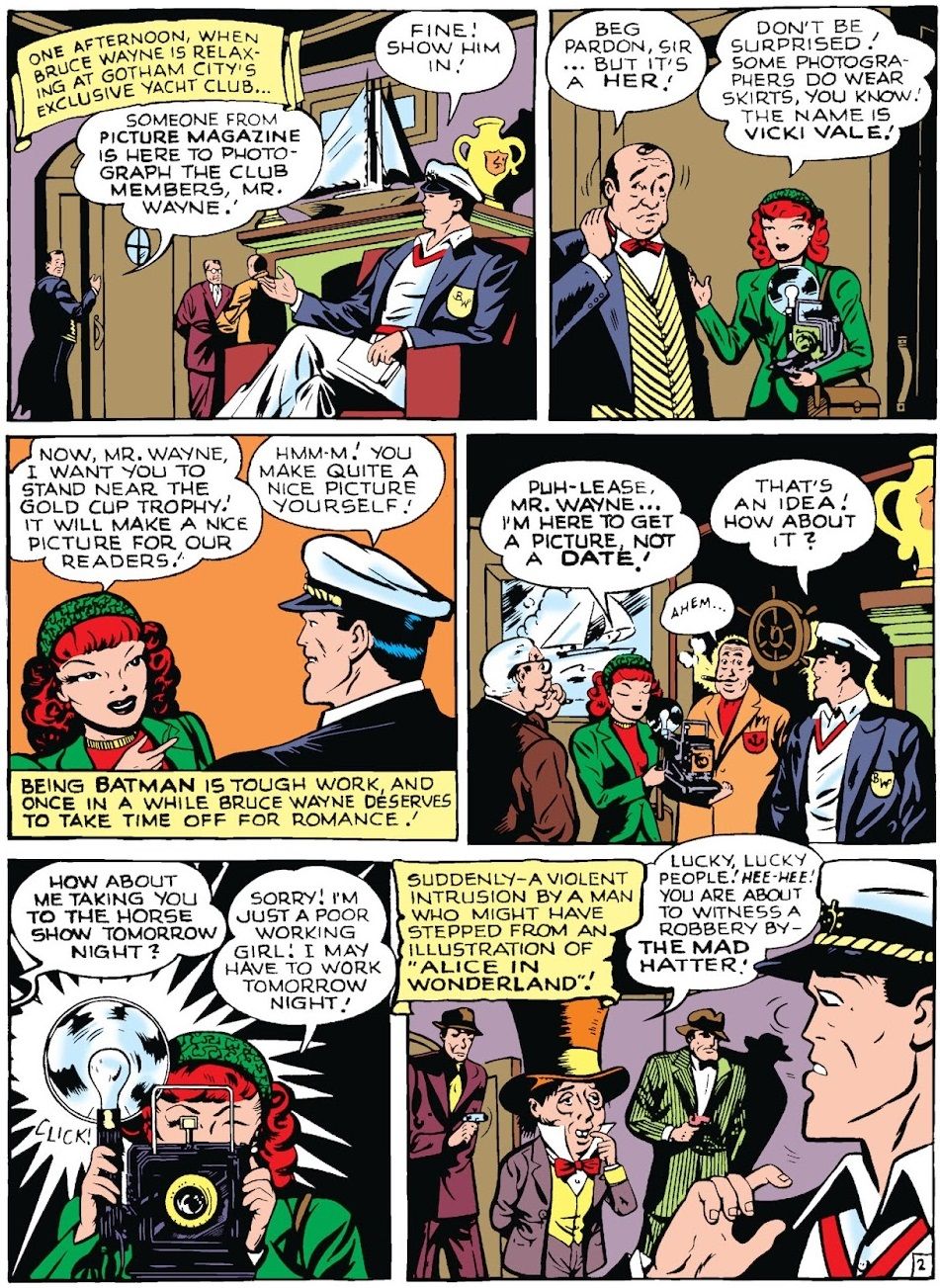 In the first sign that Vicki was a bit of a badass, she follows as Batman tracks down and captures Mad Hatter, with Vicki capturing a photo of Batman knocking out Mad Hatter…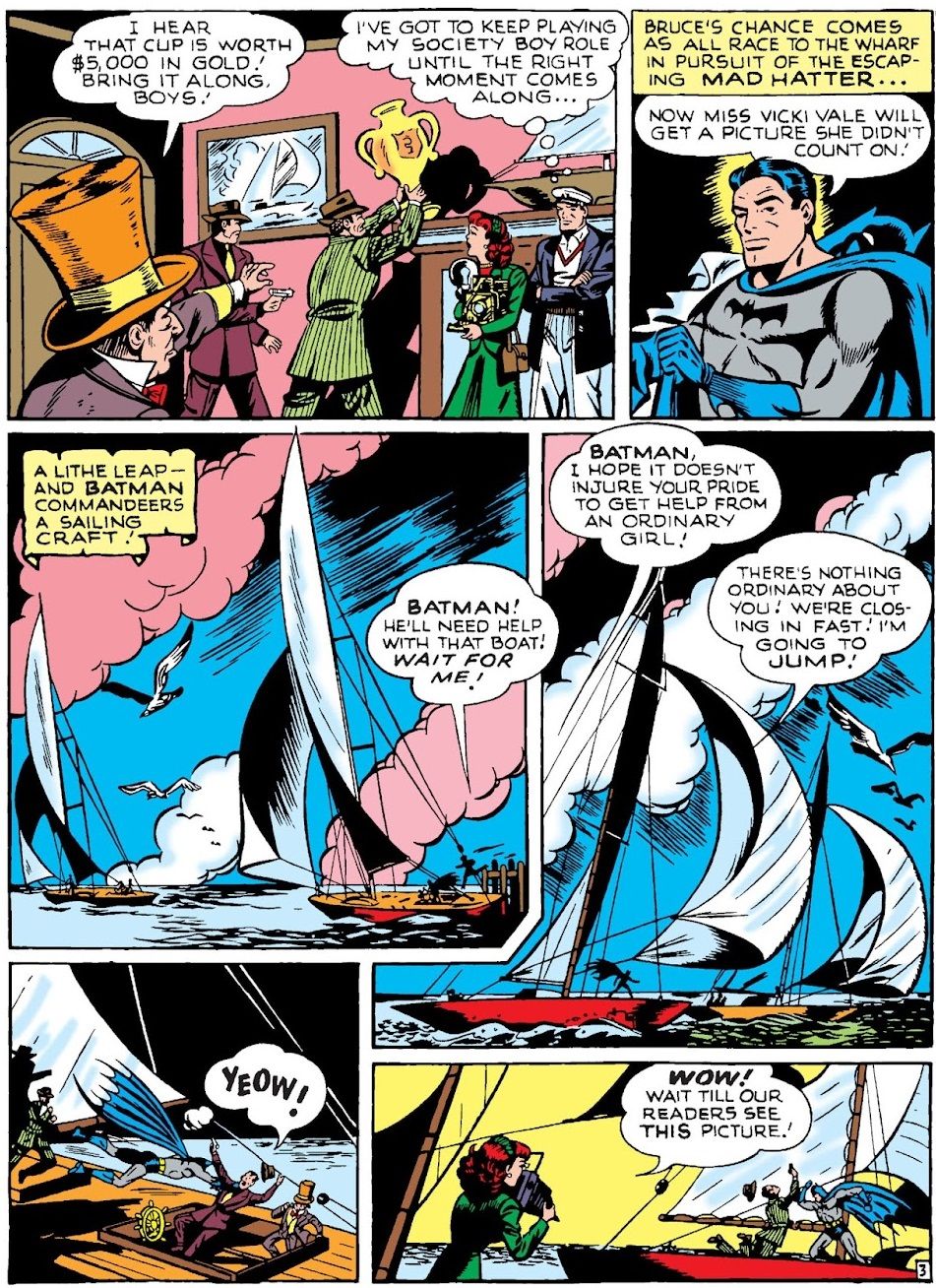 The picture is a big enough deal that Vicki's magazine asks Batman if they can do a "Day in the life" feature on him and Robin with Vicki following them. Batman agrees, and Vicki becomes their personal photographer. However, when Vicki is out on a date with Bruce Wayne, the Mad Hatter strikes again, and Vicki springs into action (she's really a major badass). When Bruce takes that opportunity to change into Batman, Vicki thinks he looks familiar. She compares her photographs, and, well….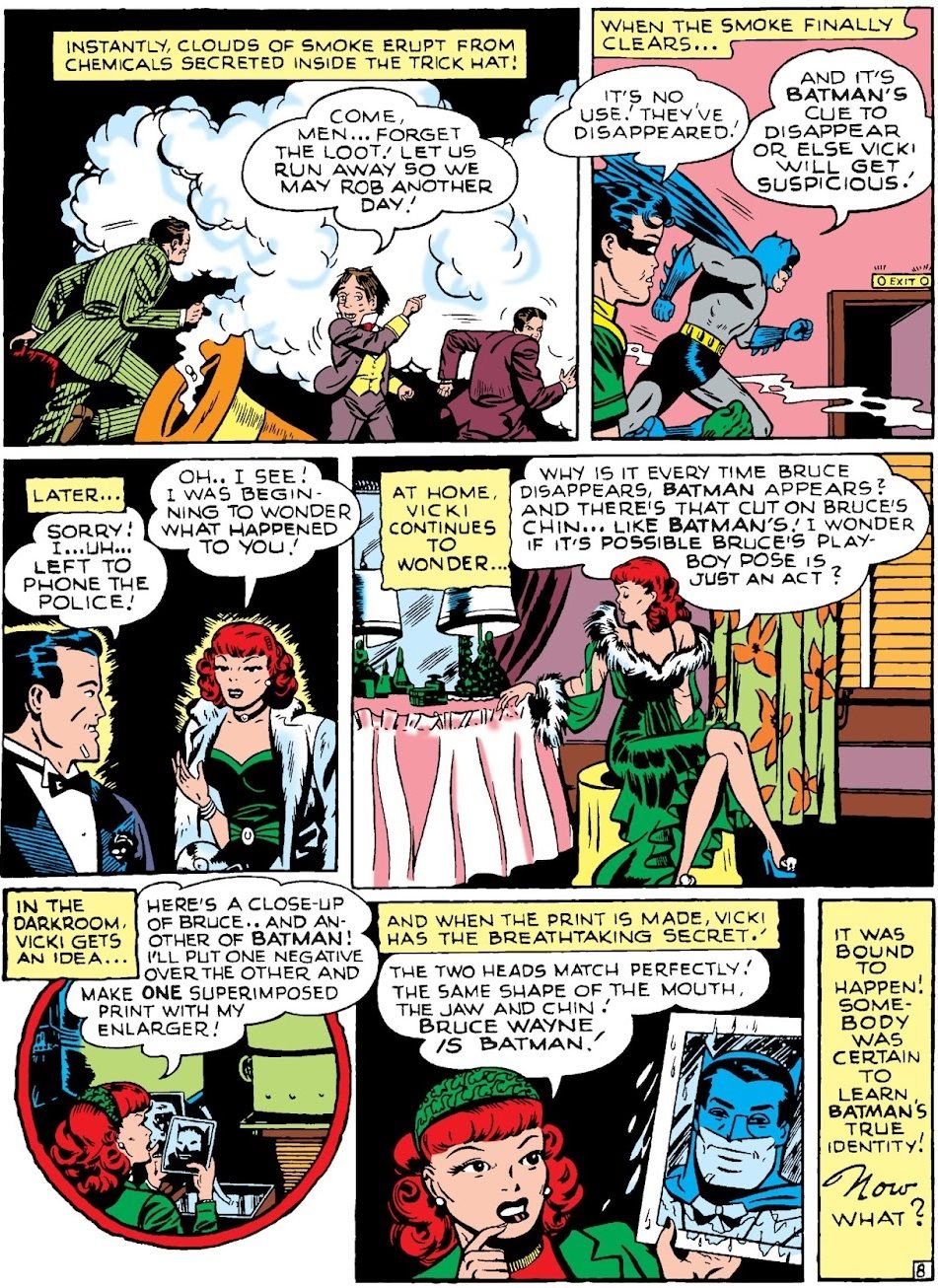 Here's what I don't get – didn't Vicki pretty much PROVE it? Why does she need MORE than this? She has some great evidence here, no?
Anyhow, she then tries to trick Batman by putting some powder in Batman's glove that will make his hands glow, and since she has a date with Bruce Wayne coming up, she'll catch him and prove he is Batman…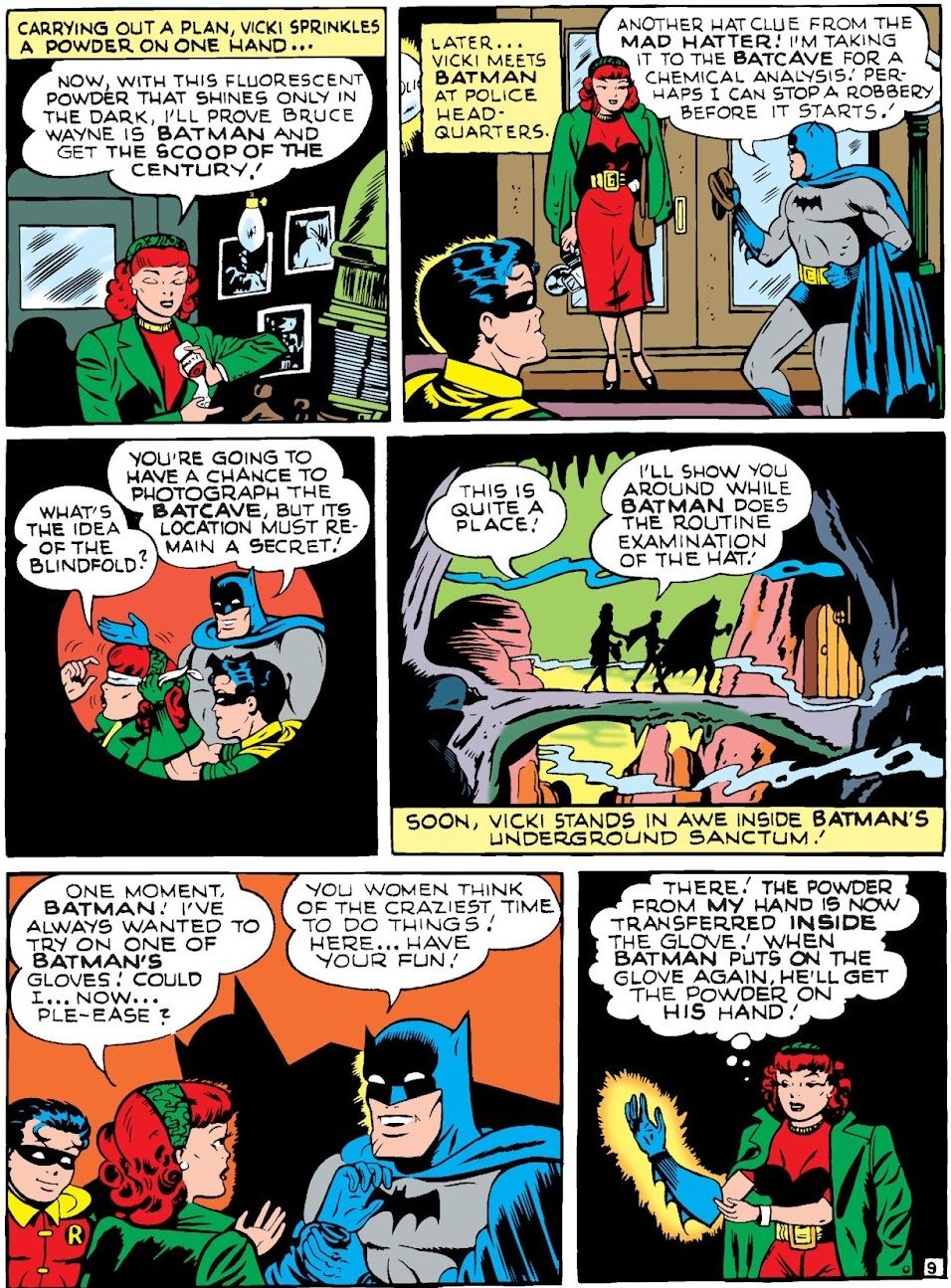 But, of course, Batman is too sneaky for her, and shows up for the date as Bruce with a glowing hand…but TWO glowing hands!!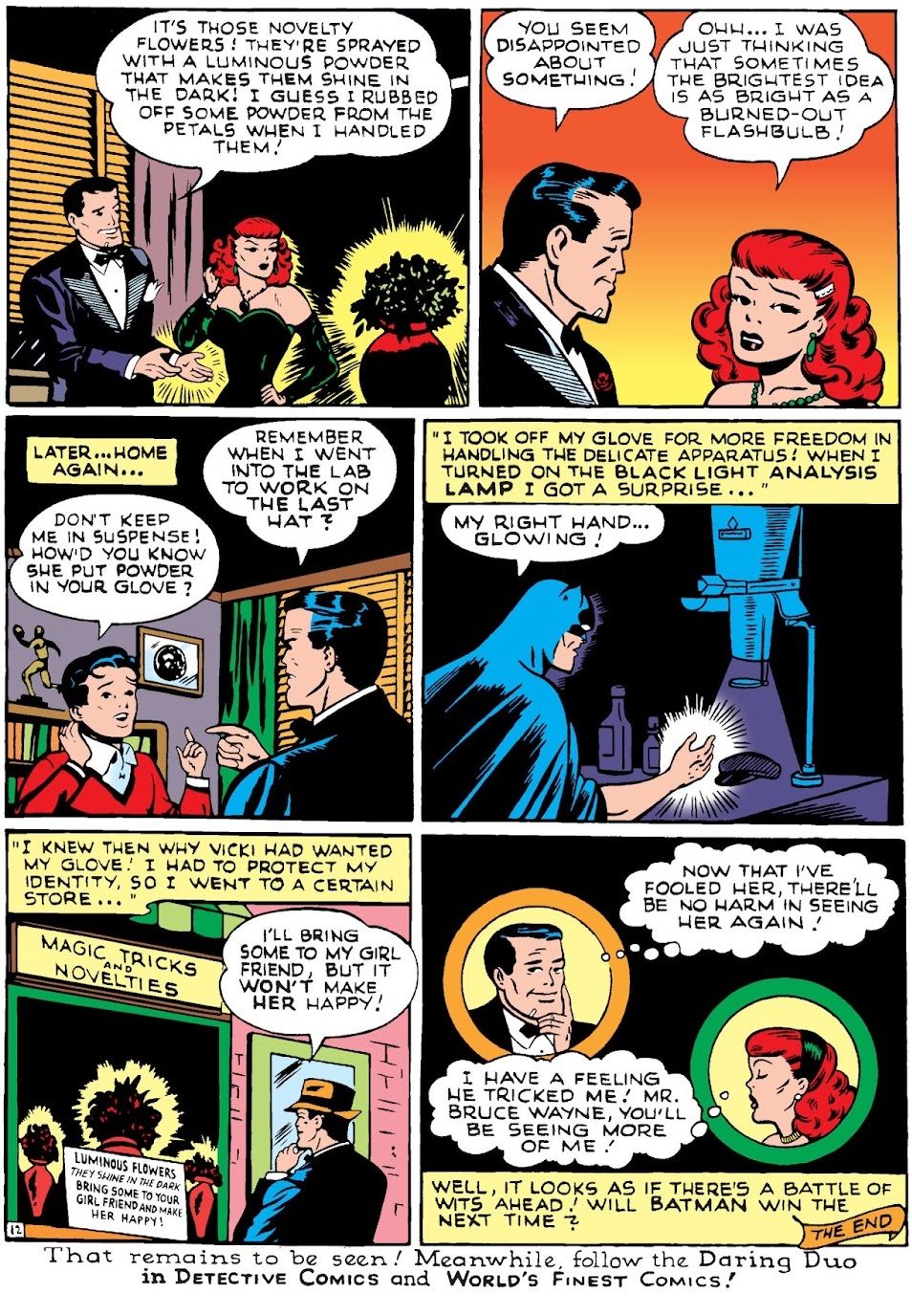 That isn't enough to make Vicki sure she's wrong, though, and she now vows to prove her suspicions correct, and, well, there ya go, it's Batman and Vicki Vale as Superman and Lois Lane for much of the next decade. So this is a pretty darn significant issue, all things considered.
Reader Bob B. wrote in to suggest Vicki earlier this year. I think I'd probably have gone with her regardless (these 1940s pickings tend to be slim, so anything like a major first appearance I latch on you right away), but I still appreciate the suggestion! Thanks, Bob!
If you folks have any suggestions for September (or any other later months) 2013, 1998, 1973 and 1948 comic books for me to spotlight, drop me a line at brianc@cbr.com! Here is the guide, though, for the cover dates of books so that you can make suggestions for books that actually came out in the correct month. Generally speaking, the traditional amount of time between the cover date and the release date of a comic book throughout most of comic history has been two months (it was three months at times, but not during the times we're discussing here). So the comic books will have a cover date that is two months ahead of the actual release date (so October for a book that came out in August). Obviously, it is easier to tell when a book from 10 years ago was released, since there was internet coverage of books back then.
on bbc news
on hindi news
on the news today
on channel 7 news
ôrf news
campo grande news ônibus
ôpera news
campo grande news greve de ônibus
l1 news horário dos ônibus
l1 news ônibus
lago azul news ônibus
news österreich
news österreich heute
news österreich aktuell
news öffentlicher dienst
news österreich corona
news öl
news österreich orf
news ö3
news österreich heute aktuell
news österreich sport
ö24 news
ölpreis news
öbb news
ösv news
österreich news krone
övp news
özil news
öffentlicher dienst news 2023
österreich promi news