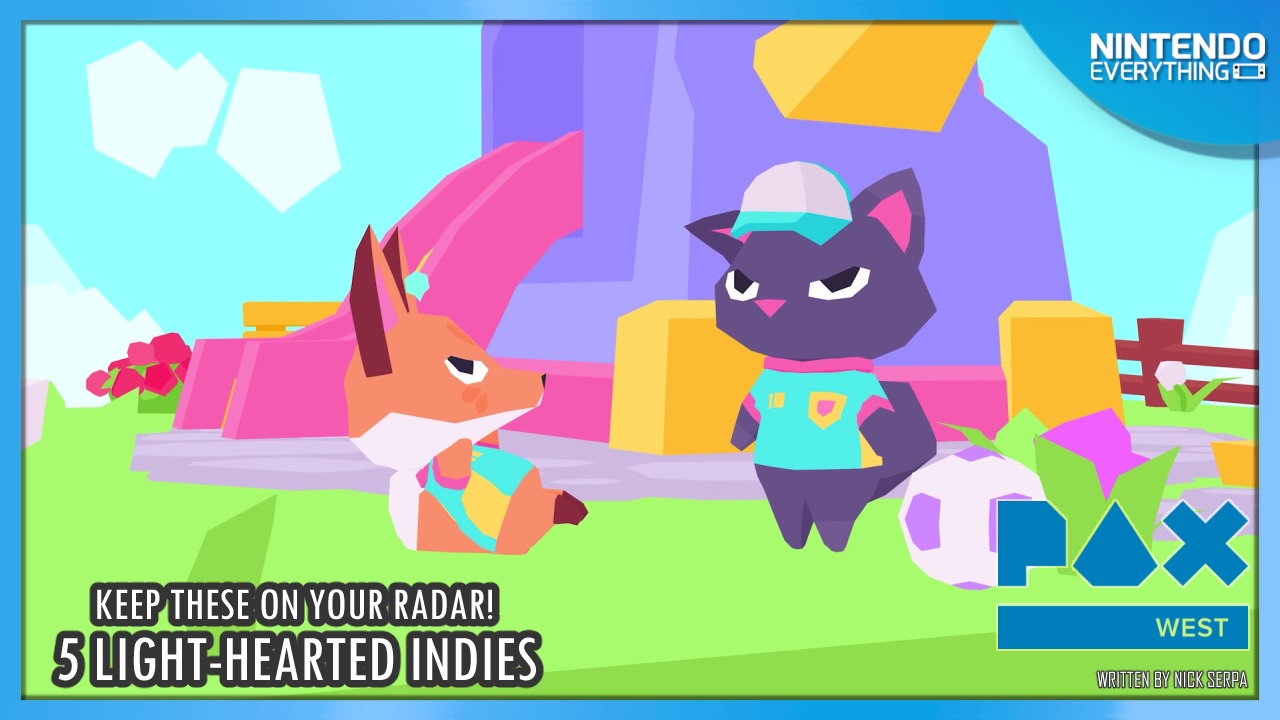 We played more games at PAX West this year than we have time to feature individually, but there were a ton of little surprises we had the chance to try that we're looking forward to seeing on Switch. If you're looking for some low-key games to unwind to after a busy day, here are five chill and relaxing games to keep an eye on!
My Time at Sandrock
Developer: Pathea Games | Publisher: Focus Entertainment/PM Studios | Nov. 2, 2023
While this sequel to the generally well-received My Time at Portia has been in Steam Early Access for over a year now, the upcoming Switch release will mark the full launch of this wild west-themed life simulator. As someone who lives in the desert, I'm not usually excited to play games set primarily in brown and dusty environments, but I have to admit I was surprised at how interesting the setting is in this one. It's a post-apocalyptic world built above the ruins of an old civilization, and the colorful and animated art style really adds a wholesome charm to the whole experience. I only got to play this one for a brief period of time, but I really enjoyed how natural and authentic the writing felt, and how clear the tutorials were at introducing the mechanics of this world. I definitely get the sense there will be a lot to do in this one – from farming and customizing your home to combat and minigames – and what I played was really fun, even during otherwise monotonous tasks. I also really appreciated just how great the act of moving around the world felt, which I feel is something that a lot of games in this genre don't quite nail. This could be the game to fill the Animal Crossing shaped void in my life, at least for a little while.
Botany Manor
Developer: Balloon Studios | Publisher: Whitethorn Games | 2023 – TBC
Botany Manor is a first-person puzzle game set in 19th century England about discovering and learning to grow rare varieties of flowers, and it's a beautiful experience that sucked me into its world quite quickly. A surprisingly large mansion and its accompanying grounds are rife with rooms to poke around in and outdoor spaces to explore, and while it appears to be a relatively straightforward place to navigate, the excellent lighting and cluttered spaces help sell the illusion of the manor being a real place. Different types of seeds need different criteria to grow, and each of the dozen or so plants in the game represent a puzzle to be solved. Early puzzles were challenging without being overwhelming, so I'll be interested to see what surprises will pop up later in the game. Botany Manor has a tentative release window on the Switch eShop of 2023.
Button City: Soccer Days
Developer/Publisher: Subliminal | TBC
2021's Button City was a delightful little adventure about exploring a diorama-style town as cute animals to try and save their town's arcade; while Button City: Soccer Days brings back the charming cast and world from the original, the main focus of the gameplay this time around is competing in pick-up-and-play casual soccer matches. With physics that lean closer to something like Rocket League than FIFA, the gameplay manages to being accessible without losing all its challenge (for example, you'll need to bounce between your teammates on the field if you want to have any hope of managing the action on the field). Beyond the soccer itself (which does support splitscreen play), there's a story-focused mode about managing, training, and bonding with your teammates that will retain many of the exploration and social elements that made the first Button City special. I've never been a big sports guy, but I've always had a soft spot for games that embrace the fun of the genre rather than the sim elements, so I definitely want to play more of this one down the road.
Rugrats: Adventures in Gameland
Developer: The MIX Games/Wallride | Publisher: Limited Run Games (Physical) | 2024 – TBC
This one's a weird one: for some reason, a brand-new game based off the Rugrats cartoon series is in development, and while it's coming to the Switch, its primary development platform is actually the NES! I demoed this one on the developer's childhood NES system, and for a game developed for such limited hardware, it actually felt great to control. This 2D platformer has some light traversal-based puzzle solving and local co-op play, and while I am decidedly not the target audience for this one, the gameplay itself was simple but challenging in a rewarding way. I could see this game being a good throwback for people looking for a nostalgic, very old-school experience when it launches on Switch sometime next year. 
The Courier
Developer: Crescent Moon Games | Publisher: PM Studios | TBC
While my demo with this game was a bit rough, and the project is still clearly deep in development, the general concept at least has me curious. The Courier is a top-down open world adventure game about delivering mail on an island; you'll run, jump and even ride a bicycle around this hilly, toy-like world, interacting with residents and throwing letters at basically everything you encounter. I think there's a lot of potential with the concept, and I like the art direction and relaxing feel of the world; that said, we've seen other games explore the idea of mail delivery in ways that I find more interesting than what I played here, so I definitely want to see a lot more of The Courier in action to get a better sense for the scope of the adventure and the story driving the exploration. No release date for this one yet, but it seems like it's likely pretty far away from launch. 
Which of these games are you interested in, and what other lighthearted games do you have on your radar? Let us know below!
Related
on bbc news
on hindi news
on the news today
on channel 7 news
ôrf news
campo grande news ônibus
ôpera news
campo grande news greve de ônibus
l1 news horário dos ônibus
l1 news ônibus
lago azul news ônibus
news österreich
news österreich heute
news österreich aktuell
news öffentlicher dienst
news österreich corona
news öl
news österreich orf
news ö3
news österreich heute aktuell
news österreich sport
ö24 news
ölpreis news
öbb news
ösv news
österreich news krone
övp news
özil news
öffentlicher dienst news 2023
österreich promi news