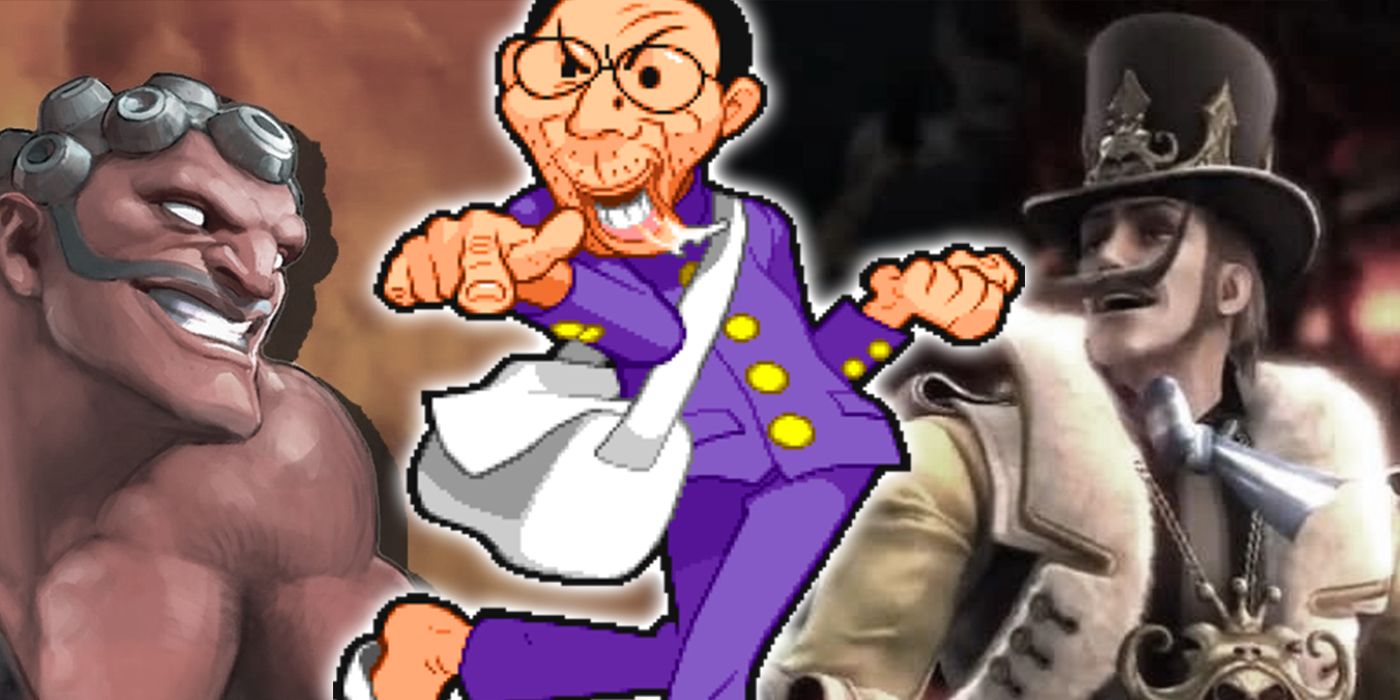 The depth of a fighting game depends on the variance of its character's movesets and how those movesets interact with one another. The best fighting game franchises have an expansive roster that still manages to be balanced and diverse. Variation in movesets allows players to find an approach to the game that fits their play style.
Some fighting game characters are complete outliers in comparison to their peers. They might be tonally different from the rest of the roster like a joke character, or they might have a fighting style that pulls from a different fighting game or even a different genre. Strange movesets in fighting games generate interest and flavor and keep character rosters from feeling stale.
10 Most Iconic Fighting Game Villains
10
Necrid – SoulCalibur II
| | |
| --- | --- |
| Debut Year | 2003 |
| Number of Characters In Game Roster | 23 (Each console port has an exclusive 23rd character) |
| Developer | Project Soul |
| Publisher | Namco |
Comic book artist, Todd McFarlane, was tapped to design a new character for Soulcalibur II alongside the inclusion of his character, Spawn, in the Xbox port. McFarlane created Necrid, a hulking horned humanoid with a massive energy gem strapped to his chest. Necrid channels the energy of Maleficus which physically manifests the power of the Soul Edge in the form of weapons.
Necrid's attacks pull from the movesets of Soulcalibur's other fighters, using Maleficus to transform into their weapons at will. The variety of weapons Necrid can manifest makes him an unpredictable fighter, especially in the hands of players experienced with the game's other characters.
9
Meat – Mortal Kombat: Armageddon
| | |
| --- | --- |
| Debut Year | 2006 |
| Number of Characters In Game Roster | 62 |
| Developer | Midway Games |
| Publisher | Midway Games |
Meat made his formal debut in Mortal Kombat: Armageddon, but he made a secret appearance earlier in the Mortal Kombat series. During the development of Mortal Kombat 4, developers needed a character model to use for flesh-ripping fatalities, like Fujin's Wind Skinner, so they made a proportional-sized skinless model nicknamed Meat. Meat can be accessed in Mortal Kombat 4 as an alternative fighter skin by defeating all challengers in Group Mode.
When Meat arrived as a fleshed-out character in Mortal Kombat: Armageddon, the designers leaned into his gory persona. Meat can disappear into the pool of blood beneath him to teleport behind the opponent, and he can use his slippery body to quickly low slide into them. While he wields his two meat cleavers as weapons, he can also use them to chop off his own head before rolling it at his enemies.
| | |
| --- | --- |
| Debut Year | 2011 |
| Number of Characters In Game Roster | 38 |
| Developer | Capcom |
| Publisher | Capcom |
10 Marvel Heroes Made For Fighting Games
In Marvel vs. Capcom 3: Fate of the Worlds, Phoenix Wright takes a break from his time as a lawyer to moonlight as a fighter alongside Capcom icons and Marvel heroes. Phoenix Wright does not use any weapons or tools to take on foes and instead attacks by investigating or throwing legal documentation. The iconic "Objection!" speech bubble and Wright's assistant, Maya Fey, also make appearances as attacks.
What differentiates Phoenix Wright from other fighters is his Investigation Mode where he finds pieces of evidence such as a knife or a cell phone to build a case against his opponent. Once he collects all the pieces of evidence, Phoenix Wright can unleash the most powerful Level 3 Hyper Combo in the whole game. Wright's mix of light combo moves and keep-away projectiles allow him the time to slowly find evidence during the match.
7
Hakan – Super Street Fighter IV
| | |
| --- | --- |
| Debut Year | 2010 |
| Number of Characters In Game Roster | 35 |
| Developer | Dimps, Capcom |
| Publisher | Capcom |
Hakan joined the character roster of the Street Fighter series as one of the new characters in Super Street Fighter IV. He is one of the game's large grappler fighters, and he relies on his huge range and powerful moveset to overwhelm opponents. Notably, his motivation for entering the Street Fighter tournament is simply to make his family proud while searching for the world's best oil recipe.
Hakan's main gimmick is his ability to douse himself in oil which increases his range, power, and defense. When in oil mode, Hakan is a fearsome foe who can intimidate the opponent into misplays. However, Hakan's oil mode wears off after a short period, and he must constantly repour oil on himself to keep his advantage.
6
Dampierre – Soulcalibur: Broken Destiny
| | |
| --- | --- |
| Debut Year | 2009 |
| Number of Characters In Game Roster | 28 |
| Developer | Project Soul |
| Publisher | Namco Bandai Games |
10 Best Soulcalibur Games, Ranked
Dampierre is an eccentric scoundrel in the weird and wonderful character roster of the Soulcalibur series. He was introduced in 2009 as a new character in Soulcalibur: Broken Destiny and reappeared as a DLC character in Soulcalibur V. His moves are flamboyant and rude —such as spanking his opponent or dancing in the air to combo them — and he often shouts wildly during his combos.
Dampierre's special moves are Fake Pain and Poker's Bluff which begin or end moves with a fake fall to the ground. These theatrics throw off the rhythm of the fight and are essential for drawing in opponents with longer weapons. Foes who fall for Dampierre's tricks will find themselves caught in Dampierre's own quirky rhythm.
5
Jack-O' Valentine – Guilty Gear Xrd -REVELATOR-
| | |
| --- | --- |
| Debut Year | 2016 |
| Number of Characters In Game Roster | 23 |
| Developer | System Works |
| Publisher | System Works |
The Guilty Gear series is full of anime-inspired characters who take the medium's tropes to the extreme. Jack-O' Valentine, introduced as a new playable character in Guilty Gear Xrd -REVELATOR-, can be identified by the massive halo on her head, her flowing red hair, and the metal Jack-O'-Lantern chained to her foot which she uses as a weapon.
In addition to magical attacks, Jack-O' creates "white pumpkin houses" that summon minions that attack her opponent. Players using Jack-O' must track minion spawns while staying engaged in combat to fully use her abilities. Three different kinds of minions can spawn: a combo-attack minion with a spear, a flying minion with a sword, and an anti-aerial minion with a staff.
4
Olimar – Super Smash Brothers Brawl
| | |
| --- | --- |
| Debut Year | 2008 |
| Number of Characters In Game Roster | 39 |
| Developer | Sora Ltd., Game Arts |
| Publisher | Nintendo |
The action-strategy series, Pikmin, is an odd choice for a fighting game character, but the developers of Super Smash Brothers Brawl found a creative way to pull the series' original spacefarer into the fray. Pikmin protagonist Olimar makes his fighting game debut alongside all of the Pikmin variants in Pikmin 2. Olimar is one of the starter characters in Brawl, and his signature stage is Distant Planet, which draws on the opening forested areas of the Pikmin games.
Olimar attacks by throwing Pikmin or by smashing them into enemies. Using his regular special, Olimar can summon up to six Pikmin at a time which becomes important as Pikmin can die during battle. Despite being reliant on Pikmin for all but six of his moves, Olimar ranks as the third-strongest character in Brawl due to his unpredictability and capacity to quickly rack up lots of damage.
3
Doctor Bosconovitch – Tekken 3
| | |
| --- | --- |
| Debut Year | 1998 |
| Number of Characters In Game Roster | 24 |
| Developer | Namco |
| Publisher | Namco |
10 '90s Fighting Games That Still Hold Up Today
In the console port of Tekken 3, Doctor Bosconovitch arrives as one of three unlockable exclusive characters. Doctor Bosconovitch has no fighting skills of his own, in fact, he is introduced in the story as a mere scientist held captive by Kazuya. Doctor Bosconovitch seeks Ogre's blood to cure himself and resurrect his daughter, but he finds time for several other scientific creations such as the playable android character, Jack.
Doctor Bosconovitch has a panicked and amateurish style of fighting, and he sometimes falls after combos. His clumsiness works to his advantage as it is hard to predict his movements when he is constantly tripping. Doctor Bosconovitch's moveset, expectedly, has a selection of powerful low-sweeping attacks and, unexpectedly, is full of potent moves pulled from other fighters.
2
Norimaro – Marvel Super Heroes vs Street Fighter
| | |
| --- | --- |
| Debut Year | 1999 |
| Number of Characters In Game Roster | 12 with 6 secret variants |
| Developer | Capcom |
| Publisher | Capcom |
Norimaro debuted in Marvel Super Heroes vs Street Fighter as an original guest fighter created partially by Japanese comedian Noritake Kinashi. Norimaro is a comic book super fan, and he constantly asks for autographs and photos of his fellow fighters. His gangly body makes him an awkward fighter, and several of his moves use his school bag and its contents as weapons.
Norimaro primarily serves as a parody character, and he has several self-aware moves, such as Powerful Rolling Arms and Ultimate Grand Champion Jump. His most powerful Hyper Combo, Ultra Variety Private Memories, is a 21-hit montage of the most memorable moments of his life. His mundane weapons and awkward body humorously contrast the superhuman Marvel characters and well-muscled Street Fighter combatants.
1
Steve/Alex – Super Smash Bros. Ultimate
| | |
| --- | --- |
| Debut Year | 2020 |
| Number of Characters In Game Roster | 89, 82 unique fighters, and 7 echo fighters |
| Developer | Sora Ltd., Bandai Namco Studios |
| Publisher | Nintendo |
Super Smash Bros. Ultimate goes the extra mile to include not only all the characters and stages from previous Smash Bros entries but also several video game icons from outside Nintendo franchises. Character movesets vary drastically, from Captain Falcon's basic punches and kicks to Marth's elegant swordplay to Pac-Man's use of household items. The developers made an effort to make characters feel as if they came out of their own game as demonstrated by Ryu's combos and Cloud's Limit Gauge.
Steve and Alex — the base characters from Minecraft — were introduced as the seventh DLC character in 2020, two years after the game's release. Several gameplay elements from Minecraft make an appearance including riding in a minecart and mining for materials. Upgrading Steve/Alex's toolset to diamond boosts their attack significantly, and competitive Steve/Alex players prioritize mining, even in the heat of a match.
on bbc news
on hindi news
on the news today
on channel 7 news
ôrf news
campo grande news ônibus
ôpera news
campo grande news greve de ônibus
l1 news horário dos ônibus
l1 news ônibus
lago azul news ônibus
news österreich
news österreich heute
news österreich aktuell
news öffentlicher dienst
news österreich corona
news öl
news österreich orf
news ö3
news österreich heute aktuell
news österreich sport
ö24 news
ölpreis news
öbb news
ösv news
österreich news krone
övp news
özil news
öffentlicher dienst news 2023
österreich promi news