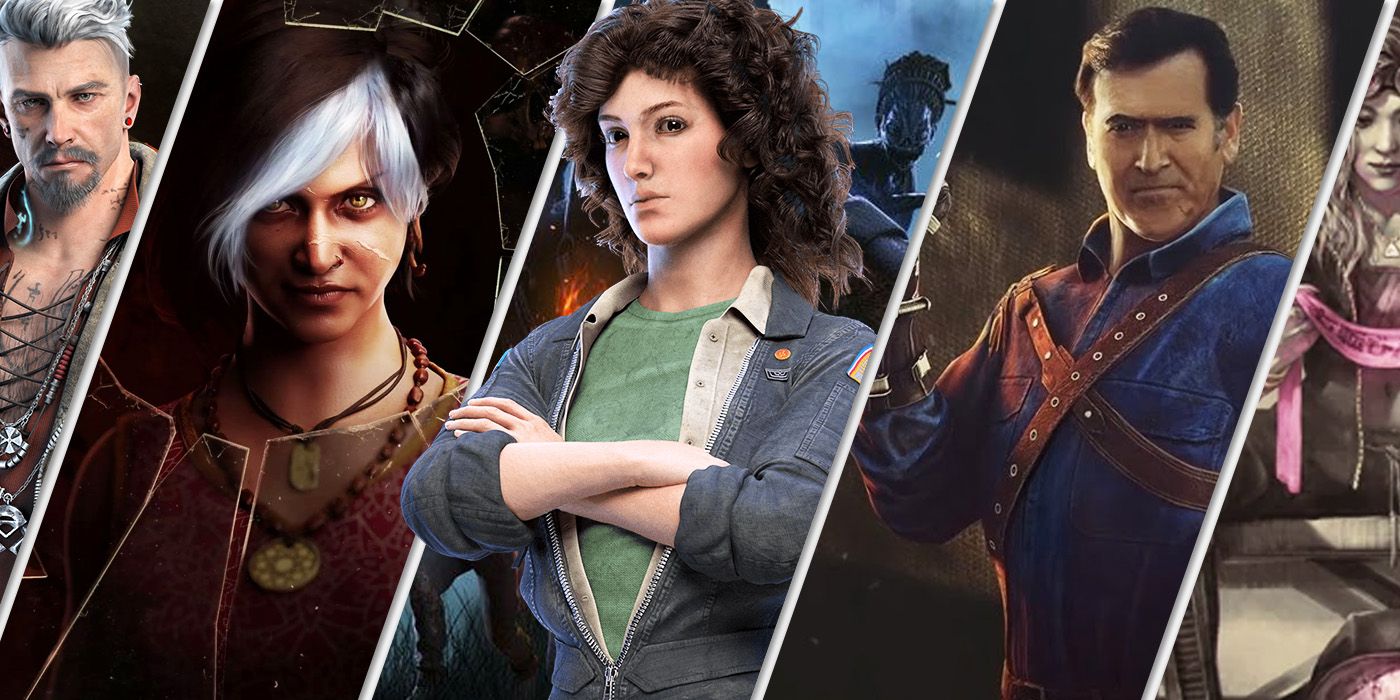 Dead by Daylight is most infamous for its killers. The collection of slashers, drawn from iconic horror franchises and original to the game, is the main selling point. However, the killers are only one side of the equation. Dead by Daylight also relies on its survivors, the ordinary humans who attempt to escape and survive.
The Dead by Daylight survivors have backstories every bit as diverse and fascinating as the killers hunting them. Some benefit from their exploits in other franchises, while others contribute to Dead by Daylight's ongoing mythology. Either way, some of them stand out for their entertaining lore and compelling backstories.
The Best Survivors To Play As In Dead By Daylight
10
Kate Denson Thwarts The Entity Before Her Kidnapping
Chapter 8: Curtain Call
Kate Denson's backstory as a disappeared musician can initially seem to pale in comparison with the more action-oriented and paranormal survivors available in Dead by Daylight. However, the expanded version of her lore helps Kate stand out by being one of the game's few survivors to have thwarted the Entity in her backstory.
Kate's initial Dead by Daylight backstory has her playing a strange song that draws the Entity to her. However, the Kate Denson: Back to Zero story in Tome 3: Escalation expands on this. The Entity works on Kate's mind for some time, only for her to refuse to play its song by clinging to her artistic integrity. Even though the Entity gets Kate eventually, she's one of the few survivors to almost resist it.
9
Nicolas Cage Blends The Real And Fictional Worlds
Chapter 28.5: Nicolas Cage
Even More Video Game Franchises That Deserve Nicolas CageThe real-life actor Nicolas Cage may seem an unusual video game character, but he has made a high-profile appearance in Dead by Daylight. Although his DLC has an air of comedy to it, the game treats his backstory as seriously as it does any of the more conventional Dead by Daylight characters, albeit drawing on his real-world history.
Dead by Daylight's Nicolas Cage lore has him accepting a role in a dark horror movie. The script enthralls Cage to the point of shooting immediately, only for his actions to genuinely create a portal that leaves him in the Entity's world. Its addition of supernatural themes to Nicolas Cage's real job makes it one of the more compelling Dead by Daylight backstories.
8
Felix Richter Has The Entity Loom Over His Entire Life
Chapter 17: Descend Beyond
Like several Dead by Daylight survivors, Felix Richter's entry into the game isn't his first interaction with the Entity. They span back to his childhood when he was part of a group of young people called the Pariahs. Exploring their island holiday, the Pariahs undercover a British internment camp, which in turn exposes them to the Entity.
The Pariahs' parents save them from the Entity at the cost of being taken themselves. Felix goes on to live a successful life, but this early trauma leaves him vulnerable to the Entity in Dead by Daylight. In the end, Felix enters the Entity's world while chasing after the image of his father.
7
Jill Valentine Is Experienced Against Horror Monsters
Chapter 20: Resident Evil
Resident Evil has had two prominent crossovers with Dead by Daylight, bringing some of its most iconic protagonists into the game. Jill Valentine is one of the most notable, inspired by her design in the Resident Evil 3 remake. With the benefit of coming from another universe, Jill has one of Dead by Daylight's more epic backstories.
Dead by Daylight doesn't go into great detail about Jill's exploits, mentioning only a biohazard engulfing Raccoon City and her escape from Nemesis. Nonetheless, this gives her a much more action-packed and capable history than Dead by Daylight's more civilian characters and reflects her more combative perks.
6
Vittorio Toscano Has Survived For Centuries
Chapter 26: Forged In Fog
The Best Multiplayer Horror GamesVittorio Toscano has a more high-concept backstory than most Dead by Daylight survivors, many of whom are ordinary civilians from the present day. Vittorio is the son of a 14th-century Italian noble family. He takes an active interest in the occult over more traditional pursuits, becoming an adventurer and an explorer.
Vittorio takes the initiative far more than most Dead by Daylight characters. He's the one who reaches out to the Entity, inscribing runes while dying and trapped. This backfires by trapping him in its world. Nonetheless, Vittorio is more active in surviving than other survivors, having spent centuries escaping the Entity's killers and attempting to learn how the realm works.
5
Haddie Kaur Has Psychic Potential
Chapter 24: Roots Of Dread
Haddie Kaur's lore takes a very different approach to Dead by Daylight's more conventional survivors. She has psychic powers herself, being one of the few non-killer characters to display supernatural aptitudes. Haddie is a paranormal investigator with the inherent ability to sense the Entity and its dimension when they encroach on the real world.
Haddie is another Dead by Daylight character who takes a more active role in the story than a passive victim. Much of her backstory involves her investigating the Entity and other supernatural phenomena as part of her podcast. This ultimately goes wrong for her as the Entity claims her once and for all, but it's still impressive as far as Dead by Daylight survivors go.
4
Ash Williams Continues To Combine Competence And Incompetence
Chapter 11.5: Ash vs. Evil Dead
Evil Dead's Ashley Williams is another iconic horror protagonist who takes his place in the Entity's realm in Dead by Daylight. True to form, Ash's backstory details his genuinely impressive feats against the Deadites while also making him directly responsible for almost all of his own misfortunes.
Ash is only in the Entity's realm because he and a demon have a vicious argument about Sumerian pronunciation, accidentally speaking an incantation that draws the Entity's awareness. This burst of black comedy, not long after Ash shows his mettle, reminds Evil Dead fans that he's the same character, even in a very different story.
3
Élodie Rakoto Refuses To Forget The Entity
Chapter 18: A Binding Of Kin
How To Play The Best Killers In Dead By DaylightÉlodie Rakoto has close ties to another Dead by Daylight survivor. She's a fellow Pariah like Felix Richter, exposed to the same traumatic events during childhood. However, Élodie finds a very different way of dealing with the situation than her fellow. Whereas Felix attempts to move on with his life and find success, she refuses to.
Élodie becomes a paranormal investigator just so she can try and piece together her family's disappearance. Élodie is one of Dead by Daylight's few survivors to actively seek out the Entity rather than accidentally becoming trapped in its realm. Her backstory is also far more action-packed and lore-heavy than many others, with her investigating a cult that may have ties to the Entity itself.
2
Ellen Ripley Remains One Of Horror's Best Heroines
Chapter 29: Alien
Ellen Ripley is one of the most iconic characters to cross over with Dead by Daylight. Her in-game backstory only accounts for the first Alien movie, excluding events from Aliens onward. Nonetheless, this still gives her one of the most impressive histories and accomplishments of any Dead by Daylight survivor.
Ripley is one of the few people to go toe-to-toe with one of Dead by Daylight's killers and win before both enter the Entity's realm. Even though she only has slightly more combat ability than most other survivors, her lore still reflects her status as one of the horror genre's most beloved protagonists.
1
Yui Kimura Is A More Active Hero Than Most Survivors
Chapter 14: Cursed Legacy
Yui Kimura leads a less conventional life than many Dead by Daylight survivors. She's a cultural rebel who participates in illegal street races, leading to a confrontation with her more traditional father. Eventually, Yui goes beyond being a mere racer and becomes the leader of a gang aiding abused women.
This, coupled with Yui's fight against a stalker in her Dead by Daylight backstory, helps cement her as a more active and physical hero than many of Dead by Daylight's other characters. Plenty of fans appreciate her more active role and how it reflects in her perks, even if it's to a lesser extent than many crossover survivors.
on bbc news
on hindi news
on the news today
on channel 7 news
ôrf news
campo grande news ônibus
ôpera news
campo grande news greve de ônibus
l1 news horário dos ônibus
l1 news ônibus
lago azul news ônibus
news österreich
news österreich heute
news österreich aktuell
news öffentlicher dienst
news österreich corona
news öl
news österreich orf
news ö3
news österreich heute aktuell
news österreich sport
ö24 news
ölpreis news
öbb news
ösv news
österreich news krone
övp news
özil news
öffentlicher dienst news 2023
österreich promi news