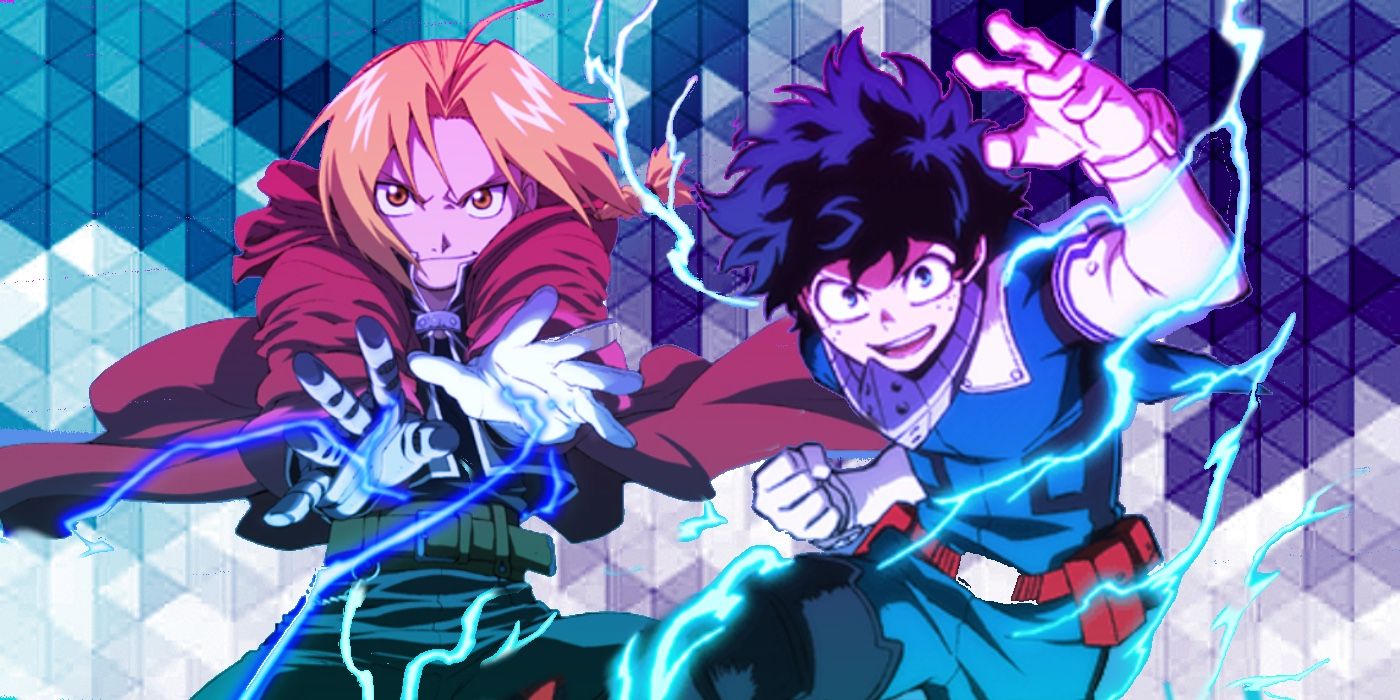 Summary
The most rewatchable shonen anime combine drama, romance, and comedy, with well-developed characters and nuanced plots.
Soul Eater stands out with its unique art style and dark, quirky vibe, despite a lackluster ending.
Fullmetal Alchemist: Brotherhood is an expansive story with compelling character development and unmatched world-building.
Shonen anime are some of the most popular shows worldwide. Their stories of adventure mix in many different genres to give them wider appeal. The best shonen anime are so lovable that fans find themselves rewatching them all over again – even if they have a high episode count.
The most rewatchable shonen anime combine dramatic, romantic, and comedic moments to create dynamic stories. The characters in these shows are well-developed, with side characters able to affect the plot just as much as the main characters. These shonen anime have proven themselves to be even better the more times they're watched due to excellent animation, realistic characters, and nuanced plots.
RELATED: 10 Most Underrated Shonen Anime Characters, Ranked
10
Soul Eater
Soul Eater is a unique anime not only in art style but in world-building. The setting of the show in and around Death Weapon Meister Academy gives the anime its uniquely dark, but quirky vibe. The relationships between Weapons and Meisters are as cool as they are nuanced, and the fight scenes are thrilling.
Although many fans were disappointed by the lackluster ending, the rest of the show is so different-looking from other anime that many fans still gravitate toward it. The characters have a lot of hilarious interactions, and Soul Evans and Maka Albarn's relationship is particularly inspiring. Soul Eater is a creative anime that feels like a palate cleanser to other typical shonen shows, which makes it a refreshing rewatch for fans.
9
Food Wars
Although it is not for everyone, fans gravitate to Food Wars repeatedly if only so they can get recipe ideas. The innumerable dishes displayed in Food Wars are enough to have any fan salivating. The animation did an exquisite job of making all the dishes look delectable – leading many fans to try to create the meals for themselves.
Apart from culinary aspirations, Food Wars is a hilarious show with many risqué shenanigans. This mature anime is comedic and heartwarming, and teaches audiences that there is more to preparing and eating food than just needing to fulfill a necessity of life.
RELATED: 10 Shyest Anime Waifus, Ranked
8
Noragami
Noragami is an action-packed anime that follows the lives of Gods as they protect the world from malevolent spirits. The story of Yato in particular is interesting since he doesn't have very many followers, but he is making up for that in the best ways he knows how.
This anime has humor and drama in equal measure, while also delving into deeper feelings of trauma, remorse, and inadequacy. The unique power structure in the show is also notable for its relationships between the gods and their regalia. Noragami is a great shonen that often gets overlooked, but for fans, it has become a regular rewatch on their lists.
7
Komi Can't Communicate
Komi Can't Communicate stands out against other shonen anime since it has a more slice-of-life focus. Seeing Shoko Komi trying to obtain friends is both heartwarming and hilarious. Komi's many attempts to be more socially present are touching reminders that everyone has their struggles – even the students who seem the most popular.
Komi isn't the only great part of the anime, however. Her new friends and their shenanigans are what make this show great. Though they all have their eccentricities, they all genuinely want to help Komi overcome her social anxiety to eventually achieve her dream. Komi Can't Communicate is so rewatchable due to its slower pace and a better emphasis on character development.
6
Spy x Family
Spy x Family is a more recent anime to come onto the scene. From its first episode, it captured fans with its humorous writing and bombastic characters. The espionage aspect of the show also draws in fans who can't resist a good mystery.
The Forger family is a great group of characters who play both their true life and secret personas with panache. Although there isn't much headway in Loid's case for the first season of the show, watching Anya, Loid, and Yor interact as a family is almost so endearing that fans come back to this story time and again to reexperience the Forger's in all their glory.
RELATED: 10 Most Important Pieeces Of Spy x Family Lore New Viewers Need to Know
5
Horimiya
Horimiya is a shonen romance that features Kyoko Hori and Izumi Miyamura's relationship. The two are ridiculously lovable characters who are both generous and supportive. Unlike a lot of anime, the anime depicts Hori and Miyamura beyond confessing their feelings and portrays a realistic relationship. There are miscommunications and insecurities, but they love each other through it all.
The supporting cast of Horimiya is also lovable. They are written to feel like real people, and their struggles are relatable to anyone whose been in love in high school. The entire show is beautifully animated and well-written, which makes fans want to watch it again and again.
4
Attack On Titan
Although Attack on Titan is full of heart-rending moments and gory scenes, many fans find it worth rewatching after they discover the secret of what lies beyond the walls. Numerous audiences have gone back to rewatch the show to see if they could spot any foreshadowing now that they know the truth.
Apart from the secrets, Attack On Titan is a suspenseful show that sticks with fans long after the final episodes. Even though it can be hard to watch, fans are still returning to it for its notable characters and amazing fighting sequences.
3
Assassination Classroom
Assassination Classroom seems bizarre to people who haven't seen it, but to its fans, it is a touching story of redemption. Korosensei and the students of Class 3E all have internal struggles that they work through together, despite the students training to assassinate their tentacled teacher.
This anime is surprisingly heartwarming. The characters are lovable – even though they have flaws – and the ending never fails to make audiences cry. Assassination Classroom is a fun but heartfelt look into the difference people can make in another's life if learn to understand them.
2
My Hero Academia
My Hero Academia is an engaging story of superpowered teens learning to become heroes. Izuku Midoriya's inspiring story gives fans' hope that their own dreams can come true someday.
The show is filled with diverse and complex characters. The powers they all have are as unique as the character designs. Many fans turn back to this unique show to refresh their memory on story beats. There are six seasons out now with a seventh on the way, My Hero Academia is full of the heart and charisma needed to keep its audience hooked for years to come.
RELATED: 10 Most Shocking Moments In My Hero Academia, Ranked
Fullmetal Alchemist: Brotherhood is one of the best and expansive stories in terms of side plots and character development. The Elric brothers' struggle to correct a past mistake is compelling without feeling contrived. The characters who support and encounter the Elrics are just as motivated in their own goals, which makes for a cohesive story.
The world-building and attention to detail in this show are largely unmatched. Even though this anime came out in 2010, fans all over the world have admitted to rewatching this series countless times. The story is the perfect balance of stakes and levity to make it an easily rewatchable and re-enjoyable show.
on bbc news
on hindi news
on the news today
on channel 7 news
ôrf news
campo grande news ônibus
ôpera news
campo grande news greve de ônibus
l1 news horário dos ônibus
l1 news ônibus
lago azul news ônibus
news österreich
news österreich heute
news österreich aktuell
news öffentlicher dienst
news österreich corona
news öl
news österreich orf
news ö3
news österreich heute aktuell
news österreich sport
ö24 news
ölpreis news
öbb news
ösv news
österreich news krone
övp news
özil news
öffentlicher dienst news 2023
österreich promi news