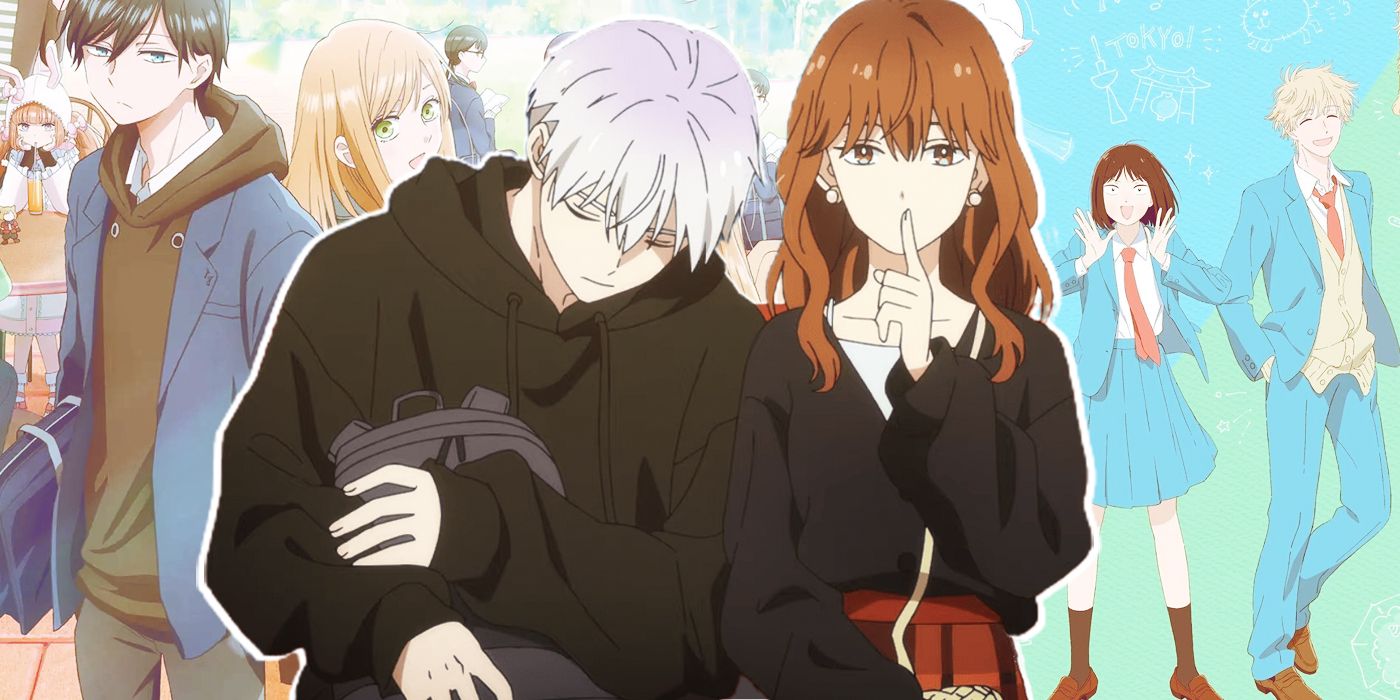 There's been a slowdown in shojo releases over the years, leaving fans yearning for more. But 2022 and 2023 have delivered some truly amazing romance titles. Some are straightforward shojo contemporaries that take place in the workplace or in high school.
There's also been a recent return to classic-style isekai romance. The old school fantasy romance vibes are there, with a new dose of creativity and complex characters. Newer romance releases lean into popular shojo tropes with alacrity. Recent romance titles aren't just full of swoony characters and stock tropes, they're written with thoughtful characterization, relatable themes, and captivating plots.
RELATED: 10 Best Shoujo Isekai Anime
10
Saint Cecilia and Pastor Lawrence
The romance between Saint Cecilia and Pastor Lawrence is surprisingly sincere and wholesome. A clergy story and a romantic comedy doesn't seem like it would mesh, but Cecilia and Lawrence are cute. The series is a slice-of-life anime with charming interpersonal conflict.
Cecilia is by no means a stock character; she's kind, but she wears different masks around people. The romance between saint and paster doesn't overpower the show, either. It's a slow burn and nearly the whole town is in on it, but Lawrence is largely unaware of Cecilia's crush.
9
I'm The Villainess, So I'm Taming The Final Boss
I'm the Villainess, so I'm Taming the Final Boss came out fall of 2022 and there's no word yet whether there will be a second season. It's still early, so hopefully it's in the works. In the meantime, there's a wonderful eleven-volume light novel series. I'm the Villainess is a cute and swoony isekai romance where a clever woman is reincarnated into her favorite otome game.
The romance embraces the Love At First Sight trope, especially for the demon king love interest. It's delightful to see such a stoic demon be utterly tied to Aileen's pinky finger from the jump. There's still plenty to pace the romance, though, even with a marriage of convenience plot, because Aileen is smitten and charmed by Claude, but she doesn't quite know what to make of him for a while. The stakes are surprisingly high in I'm the Villainess despite its sweet, bubblegum aesthetic.
8
The Magical Revolution Of The Reincarnated Princess And The Genius Young Lady
The Magical Revolution of the Reincarnated Princess and the Genius Young Lady is one of many shojo isekai that begin with a fiancé dramatically breaking off his marriage and exposing the plucky heroine to the slings and arrows of gossip and an uncertain fate. The isekai framework is easily forgotten as there's so much going on between the main characters. The drama is pulpy and filled with political intrigue.
A brave and kind princess and a bookish heroine may seem like stock characters, but The Magical Revolution protagonists are unique. Princess Anis seeks to balance the scales of justice and help someone who her awful brother hurt. The romance between Anis and Euphie isn't subtext at all; there's no cloaking the romance as a "close friendship."
RELATED: 15 Anime Characters Who Got Rejected By Their Love Interest
7
Raven Of The Inner Palace
Raven of the Inner Palace came out less than a year ago, and it's an underrated romance. The animation is utterly gorgeous, and the world is complex, with a creative magic system. It takes place in a fictional ancient Chinese court, and there's plenty of political intrigue.
Raven of the Inner Palace blends the high stakes of court with eerie ghost stories, and a compelling, sincere romance. Liu Shouxue is supposed to keep to herself as the Raven Consort with no bedroom duties. As a complicated tsundere with a tragic and dangerous backstory, she prefers it that way. That is, until a certain pesky yet charming and genteel Emperor asks for her help.
6
The Ice Guy And His Cool Female Colleague
The Ice Guy and His Cool Female Colleague lies somewhere between a contemporary paranormal and magical realism. Magical realism is normally a bit more understated. Ice Guy embraces many magical realism themes, like magic being accepted as a part of daily life.
Ice Guy is metaphor-heavy in the best way. It uses the language of magic to unpack emotional boundaries. Himuro's ice powers sometimes put him at a disadvantage navigating the human world, especially because they're based on his emotions. Fuyutsuki has an extremely reserved, kuudere personality, and she doesn't show emotions easily. The two make a great combination as romance blooms quietly between the two icy exteriors.
5
Sacrificial Princess And The King Of Beasts
Sacrificial Princess and the King of Beasts retells one of the most beloved romantic fairy tales, "Beauty and the Beast." It's a high fantasy which also leans into the Guy Falls First trope. King Leonhart adores Sariphi from the start and goes through great lengths to make her happy and show her respect.
Sariphi is a bit clueless, but ultimately admirable. She's soft, but she still has a backbone. It's nice to see classic fairy tale stories where romance unapologetically takes front and center. Not only is their romantic progression fun to follow, the world and its creatures are extensive and well-fleshed out.
RELATED: 15 Romance Anime Where The Main Characters Begin Dating Early
4
Skip And Loafer
Everyone loves a golden retriever love interest, and Skip and Loafer is a high school romance with a classic black cat meets golden retriever dynamic. It follows Mitsumi as she moves to a new town and finds her place there. The premise may seem uninspired, but the simple plot gives the characters room to shine.
Skip and Loafer captures teenage-hood in a way that's relatable to younger audiences and nostalgic for adults. The character work is extremely nuanced. The drama that fuels the plot isn't there for the sake of melodrama, but to further character arcs.
3
How Raeliana Ended Up At The Duke's Mansion
How Raeliana Ended Up at the Duke's Mansion has the same energy as a 1990s historical romance novel. Raeliana doesn't know what to make of her dashing new fiancé. They agreed to their fake marriage bargain because it was mutually beneficial, but Raeliana is attracted to Noah, and Noah takes a great interest in her.
Noah is by no means a soft, benign man. He's extremely calculative and Raeliana is wary around him and of his motives. Noah, however, is charmed and intrigued by Raeliana; she grows on him. And the political intrigue is so intense that even though Raeliana was reincarnated into the world of a book she's read, she still must be sharp to navigate the shifting tides at court.
RELATED: 10 Tsunderes Who Will Scare You Then Win Your Heart
2
My Love Story With Yamada-kun At Lv999
Akane is a bit of a hot mess in My Love Story with Yamada-kun at Lv999 – she's extremely relatable, though. When she's brutally dumped, most can see themselves in her as she nurses her anger and broken heart by playing her favorite video game.
When Akane's life gets difficult, she lets off steam by throwing herself into her escapist hobby. Yamada is incredibly cool and reserved, but he's a prince through and though. He saves Akane often in the most heartwarming, and at times comical, ways.
1
My Happy Marriage
My Happy Marriage retells a couple classic fairy tale tropes, namely "Cinderella," "Bluebeard," and "Beauty and the Beast." The love story is tentative and kind. Miyo and Kiyoka Kudou are truly perfect for each other. They could easily read as flat characters in the premise, but they are wonderfully intricate, and the storytelling tone is contemplative and lovely.
Miyo was cruelly rejected by her cold-hearted family who hate her because they feel like they can't get anything useful from her. When they shove her off to a suitor with a fearsome reputation, she worries that she will be yet another one of his rejected brides. But Kiyoka doesn't reject her. He lets her into his heart in a way that he never has with another.
on bbc news
on hindi news
on the news today
on channel 7 news
ôrf news
campo grande news ônibus
ôpera news
campo grande news greve de ônibus
l1 news horário dos ônibus
l1 news ônibus
lago azul news ônibus
news österreich
news österreich heute
news österreich aktuell
news öffentlicher dienst
news österreich corona
news öl
news österreich orf
news ö3
news österreich heute aktuell
news österreich sport
ö24 news
ölpreis news
öbb news
ösv news
österreich news krone
övp news
özil news
öffentlicher dienst news 2023
österreich promi news