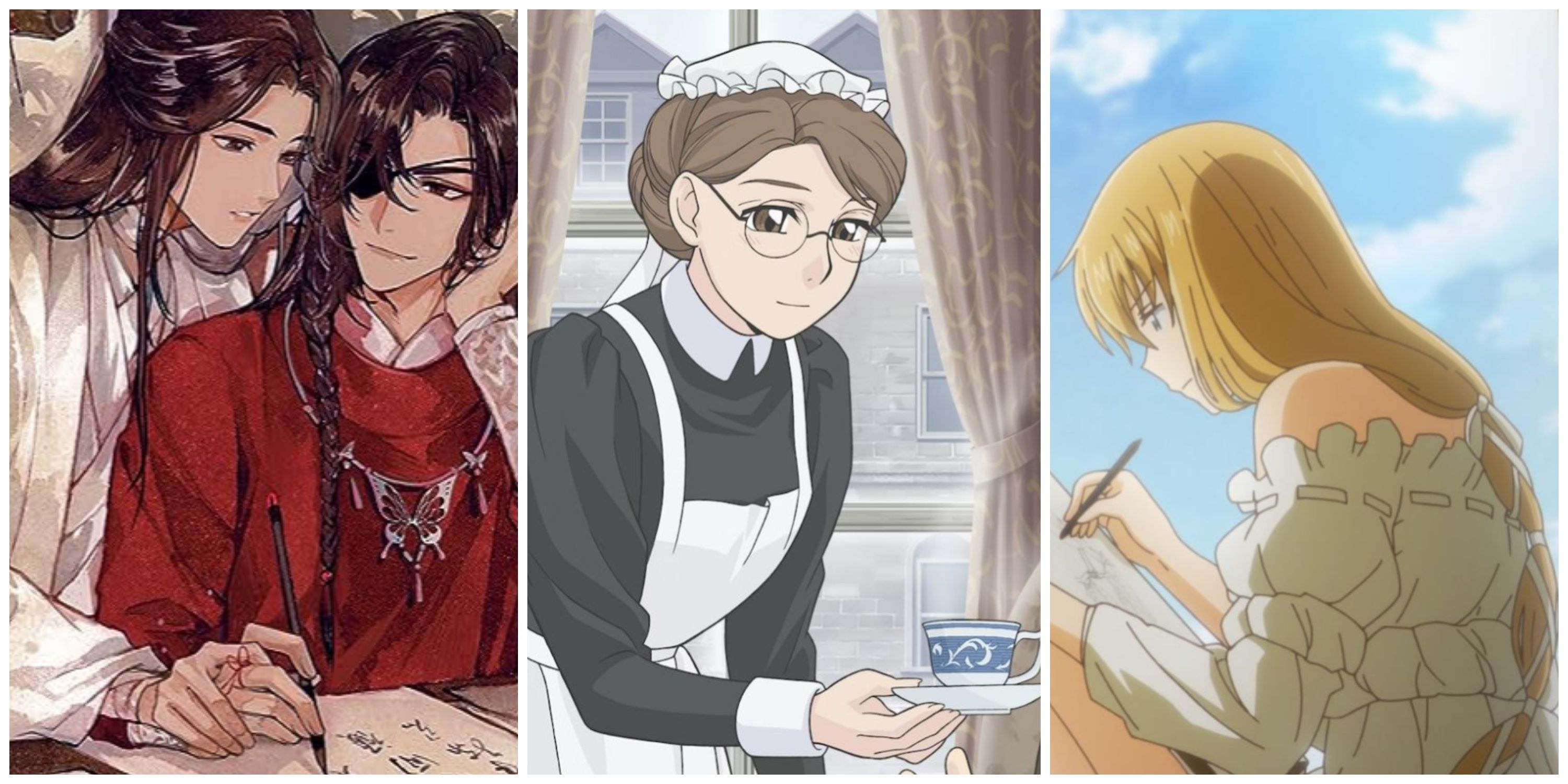 Jane Austen wrote mannerly novels that take place in England during the Regency era. Though her books are mostly known for their iconic romances, she mostly wrote about manners and made tongue-in-cheek social observations. Her humor is subtle, and her protagonists and love interests are entirely lovable – even the woefully flawed ones.
There is no direct anime retelling of any Jane Austen novels, but there are many anime titles that may interest Austen fans. They share common themes, romance tropes, and similar protagonists. Austen's novels are iconic for their Regency setting, but her stories transcend time and fans would enjoy both historical and genre-bending anime with similar themes.
RELATED: 22 One Piece Characters Based On Historical Figures
10
Snow White With The Red Hair
Prince Zen of Snow White with the Red Hair is a wholesome and kind yet capable love interest. He's worthy of keeping company with the likes of Edward Ferrars and Colonel Brandon, the love interests in Sense and Sensibility. And like Marianne Dashwood, Shirayuki was nearly taken advantage of by a cruel man with no scruples whatsoever.
But like Marianne, Shirayuki is plucky, and she has good people around her, so she finds a way to escape that fate. And like Elinor Dashwood, Shirayuki knows how to think on her feet, be resourceful, and she observes her surroundings well. She works with herbs and soon enough, she makes a good name for herself.
9
Ouran High School Host Club
Ouran High School Host Club is so tongue-in-cheek and over the top may not seem like it would appeal to Jane Austen fans. But Jane Austen wrote wry, mannerly books that observed human behavior – especially those in privileged circles. The boys in the Host Club are exactly that.
Austen may or may not appreciate the bawdier jokes, but the odds are good that she would have gotten a kick out of Ouran's comedy of errors style and grandiose characters. It lovingly pokes fun at those born to privilege, and that's exactly what she did on several levels in her own work. And the pulpy romance is always a fun addition.
8
Gosick
Jane Austen wrote one gothic novel, Northanger Abbey, and it's more of a cheeky take on the genre than anything. Her protagonist Catherine Morland and Gosick's Victorique both know what it's like to have a mystery teasing at them. Gosick is a Sherlock Holmes-style mystery with nods to many gothic conventions.
Both Gosick and Northanger Abbey are self-aware gothics that toy around with the more over-the-top tropes that come with the genre, from mysterious ghostly girls to sprawling mansions. Catherine is more interested in making the world fit her fantastical novels than grounding herself in the logic of reality. And Gosick as a show takes great liberties with suspension of disbelief in the best way.
7
Arte
Both Arte and Lizzy Bennet of Pride and Prejudice have high ideals. Where Lizzy loves to read and expand her mind, and will not settle for a loveless marriage, Arte aspires to be a trained artist. Neither Lizzy nor Arte take things lying down; they're both audacious and brave in the best way.
Lizzy has nerves of steel and can laugh when people try to belittle her – even Lady Catherine de Bourgh. And Arte won't take no for an answer when it comes to her dreams. It may take a few tries, but she knows her own mind and won't settle for less than what she deserves with her talents and brains.
6
Heaven Official's Blessing
Heaven Official's Blessing is a quiet romance and an exercise in patience. The central romance is a love that lingers in the background until the time is right – it's a spiritual cousin to Persuasion. Anne Elliot and Captain Wentworth know what it's like to wait, and to pine, to feel like half agony and half hope.
Anne Elliot feels cast aside in her own world, both by her family and by the English marriage-focused society. She knows in her own way what it's like for Xie Lian to ascend to heaven only to be rejected over and over. And Hua Cheng's beautiful line, "Your Highness, I am forever your most devoted believer," is so beautiful, it would have fit right in with Captain Wentworth's famous love confession letter to Anne.
5
The Rose Of Versailles
Jane Austen's protagonists often butt their heads against the ceiling when it comes to gender restrictions, and The Rose of Versailles tackles similar themes. Like Austen's novels, The Rose of Versailles takes place in an iconic epoch of time: Versailles right at the advent of the French Revolution. Lady Oscar's time predates Jane Austen, but they have a surprising amount in common.
In many ways, the Regency era was a reaction to the French Revolution both in terms of aristocratic image and the new kinds of flowy, less-ornate fashion. Lady Oscar tackles finding her place in the world as she protects and falls in love with a queen. And she also feels the violence of the Revolution firsthand.
RELATED: 10 Anime Couples With The Best Chemistry
4
How Raeliana Ended Up At The Duke's Mansion
While Austen's novels are social commentaries first and romances second, Why Raeliana Ended Up at the Duke's Mansion is all unapologetic romance. There's plenty of political intrigue to go with the budding romance, though. Noah is a delightfully complex love interest–he's not your garden variety golden retriever utterly devoted to Raeliana.
Rather, Noah can get pretty ruthless (relatively speaking), throwing Raeliana for a loop. But just like in Pride and Prejudice, interest tempered with suspicion slowly blooms into genuine affection between the two characters. And Raeliana is no mealy-mouthed heroine; she can be rather ruthless herself, at times. Austen loved pairing similar characters together as couples, and Raeliana and Noah have quite a lot in common.
3
Emma: A Victorian Romance
At first glance, it's easy to assume that Emma: A Victorian Romance is a retelling of Jane Austen's Emma. The two stories are not one and the same, however. The Victorian era took place after the Regency era, and the anime is more akin to Downton Abbey than a direct retelling of any Austen novel.
Nevertheless, Jane Austen fans will adore Emma as a protagonist. She is the exact opposite of Austen's most privileged protagonist, Emma Woodhouse, because the anime-Emma is a maid who works in a fancy home. Fans will no doubt enjoy the mannerly setting, charming protagonist, and her wholesome and class-crossing romance.
RELATED: 15 Most Honorable Anime Men
2
My Love Story With Yamada-kun At Lv999
Yamada of My Love Story with Yamada-kun at Lv999 is a completely Mr. Darcy-coded character. It would be easy to imagine Darcy acting they way Yamada does if he were a young gent in a contemporary setting. Like Fitzwilliam Darcy, Yamada is quiet and somewhat judgmental, at first.
And to be fair, Akane does make a bit of a fool of herself in front of him in the beginning. But even with his reservations, Yamada will always do the gentlemanly thing and expect nothing in return. And beneath his austere expression is a true lover boy who wants to ride in on his white horse and save the day for the lady he likes.
1
Earl And Fairy
People who love Jane Austen but always wished for a bit more flirtation between the couples should give Earl and Fairy a try. Edgar Ashenbert has the salacious flirtations of a Jane Austen rake with the heart of one of her heroes. Lydia Carlton may share a name with the most immature sister in Pride and Prejudice, but she's quite an accomplished young lady–a fairy doctor, in fact.
Many of Jane Austen's novels were a love letter to the English countryside and places like Bath. Earl and Fairy is similar; it's an ode to Scotland. The fantasy elements are woven beautifully into the historical. It's not a high fantasy nor an isekai, but something a bit more subtle.
on bbc news
on hindi news
on the news today
on channel 7 news
ôrf news
campo grande news ônibus
ôpera news
campo grande news greve de ônibus
l1 news horário dos ônibus
l1 news ônibus
lago azul news ônibus
news österreich
news österreich heute
news österreich aktuell
news öffentlicher dienst
news österreich corona
news öl
news österreich orf
news ö3
news österreich heute aktuell
news österreich sport
ö24 news
ölpreis news
öbb news
ösv news
österreich news krone
övp news
özil news
öffentlicher dienst news 2023
österreich promi news