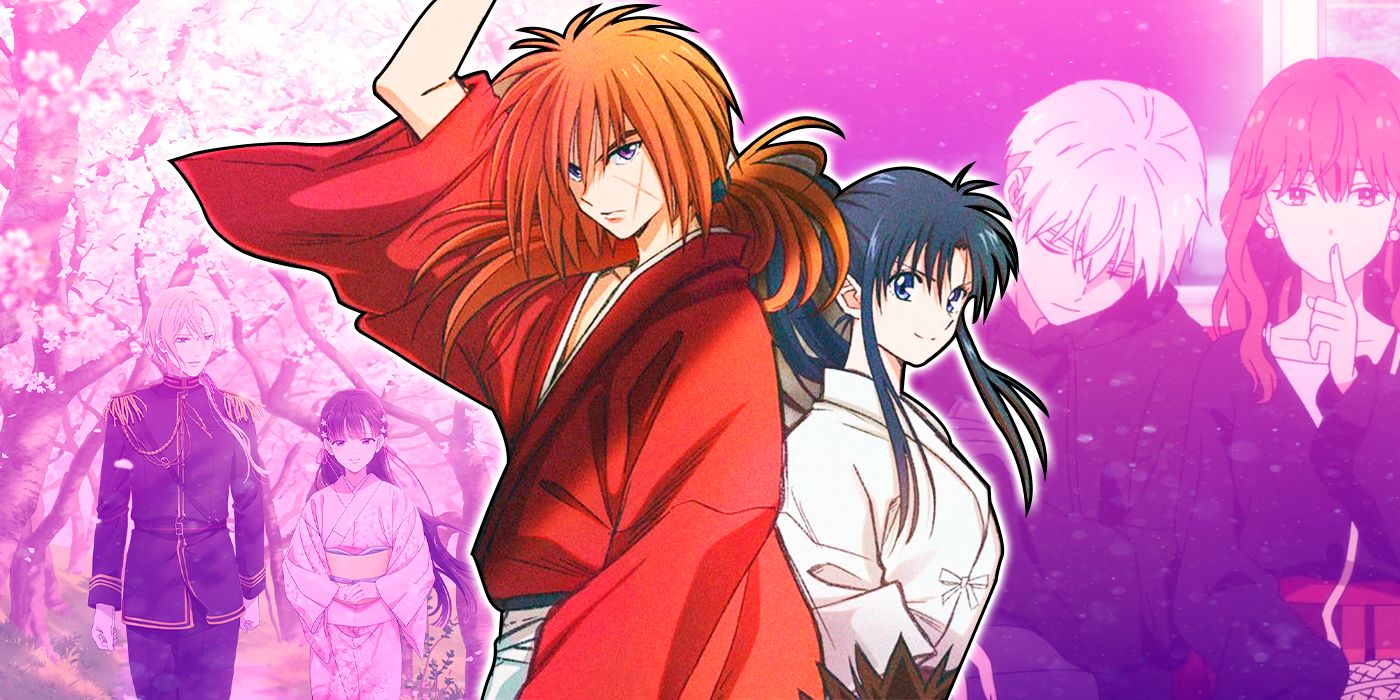 My Happy Marriage is a supernatural historical romance about Miyo Saimori who is rejected by her family for her lack of psychic powers. She is very much a Cinderella-inspired character, while her new fiancé is more of a "monstrous" bridegroom. When she's thrown into an engagement with him, she expects him to be utterly awful.
Their romance is as sweet as it is unlikely. And with both characters, there's far more than meets the eye. There are a few other quality anime that have similar settings, stakes, romance tropes, and supernatural powers. All these elements blend together to make a great romance anime.
RELATED: 10 Anime That Restored Our Hope In The Shojo Genre
10
No Doubt In Us
No Doubt In Us follows a royal couple in a historical setting: the Chinese Imperial Court. Like Kiyoka Kudou, the male love interest Emperor Xiao Jinyun has a lot of power in his world. And where Miyo and Kiyoka start off on an off-note and progress from there, Jinyun and his wife Empress Xu Yu are perpetually at each other's throats.
The solution for their unhappy marriage is a surprisingly supernatural one. They switch bodies when they fall into a pool, and they must experience life as the other person. Like My Happy Marriage, No Doubt In Us is all about a couple that must find a new understanding of each other that's rooted in empathy.
9
The Magical Revolution Of The Reincarnated Princess And The Genius Girl
The Magical Revolution of the Reincarnated Princess and the Genius Girl adds some refreshing creativity to the Fiancée Jilted By Royalty trope. The jilted fiancée, Euphyllia, is also in a compromised position and could use the help of someone with more proximity to power in her world. That's where Princess Anisphia comes into play.
Like Kiyoka, Anisphia's reaching out to Euphyllia helps restore the lady's circumstances. The world may have isolated them, but together they find true acceptance and love. And just as Miyo blooms under the mantle of Kiyoka's protection, Euphyllia can also have the safety and freedom to pursue her life goals.
8
Lost Song
Those who really enjoyed the elemental magic part of My Happy Marriage should look into the Netflix anime series, Lost Song. Lost Song may have high in-world stakes like magical peril and war, but it also does a lot of character work. There are also similar dynamics between the two lovers' personalities—one is eager to please, and the other is incredibly reserved.
My Happy Marriage has beautiful character designs, right down to Miyo's shimmering eyes and luminous makeup. The aesthetics of Lost Song may differ in style from My Happy Marriage, but it's still quite smooth and beautiful, with elegant character design. And though the two series are inspired by different regions and epochs of time, they both take place in historical-inspired worlds.
RELATED: 10 Most Heartfelt Romance Anime Confessions
7
Rurouni Kenshin
Both Kiyoka and Himura Kenshin of Rurouni Kenshin are decorated warriors, though they grapple with the realities of such a life in slightly different ways. They both have grisly reputations, but they are on slightly different paths. Kenshin is on a redemption mission for himself, whereas Kiyoka has an active reputation for his cold calculation as a warrior.
Kenshin is very respectful towards women, while Kiyoka has no respect for women if they only care about his looks and status. They both need a love interest who is their equal. Kaoru and Miyo are careful people who genuinely try to get to know someone before diving into a romance.
6
Mermaid Forest
Mermaid Forest is a dark fantasy shonen with a quiet and constant romance. That isn't to say there aren't big emotional beats between Yuta and Mana, though. Yuta doesn't have any special supernatural powers aside from regeneration, but he's an immortal being. Being immortal isolates him, which a character like Kiyoka could no doubt relate to.
And like Miyo, Mana has known cruelty at the hands of the people who were supposed to care for her. Yuta and Mana find a life worth living together. Not only do they travel through the world spending their endless days together, they help people along the way. Seeing the dark powers that mermaids possess and how they bring out the worst of human cruelty and greed makes them want to counter that presence with quiet and constant heroism.
5
Raven Of The Inner Palace
Raven of the Inner Palace has many of the same key elements that also set My Happy Marriage apart, though it differs in which character has which traits. The series also takes place in a historical setting—specifically, a fictionalized ancient China. And where Kiyoka has a fearsome reputation, Lu Shouxue is the one shrouded in mystery.
Lu Shouxue's marriage to the Emperor is also arranged for her own protection because of her tragic past, which she must keep secret. She is not meant to have a relationship with the Emperor, though, but rather lives in seclusion to tend to the spirits of the court. Lu Shouxue and the Emperor also have a great, slow-burn romance.
RELATED: 10 Scariest Shojo Anime, Ranked
4
The Ice Guy And His Cool Female Colleague
The Ice Guy and His Cool Female Colleague may not be a historical romance, but it is a romance that takes place in the everyday world surrounded by the supernatural. Himuro and Kiyoka may have similar looks and personalities, but their magical powers are of the opposite element. Where Kiyoka wields fire, Himuro's gifts stem from snow and ice.
The tone of the romance in The Ice Guy and His Cool Female Colleague is also rather similar to Miyo and Kiyoka's. They fall in love in the small moments and seem to have an intrinsic understanding of what the other appreciates and needs. It's refreshingly sweet and sincere.
3
Why Raeliana Ended Up At The Duke's Mansion
Like poor Miyo, the odds are stacked against Raeliana in Why Raeliana Ended Up at the Duke's Mansion. The only way out for her in the historical setting is through the protection of an engagement, too. Raeliana didn't bargain for Noah Wynknight, though.
Noah is cunning and fox-like, but he also takes a liking to her. While Miyo and Kiyoka's romance is incredibly tentative and gentle, Raeliana and Noah's is a bit stormier and humorous. Where Raeliana is a bit spunkier than Miyo, Noah and Kiyoka are similar kuudere-type love interests.
RELATED: 10 Most Gentlemanly Shojo Characters, Ranked
2
Kakuriyo: Bed & Breakfast For Spirits
Kakuriyo: Bed & Breakfast for Spirits is a bit more lighthearted than My Happy Marriage, but it has many of its best elements. The ogre demon Odanna seeks an arranged marriage with Aoi to settle a debt with her family, but she ducks out of the marriage by convincing him to let her work off the debt. Luckily, Aoi starts off with some more power over her future than Miyo.
Aoi can see spirits like the Saimoris do in My Happy Marriage, and that gift and knowledge base come in handy as she works in the spirit world. Odanna certainly does come off as rather brutish in the beginning, just like Kiyoka. But it doesn't take long to realize that he's actually caring and charming, especially when it comes to Aoi.
1
Psychic Princess
Qian Yunxi enters her marriage with a similar trepidation in Psychic Princess. She's also considered the throwaway daughter, just like Miyo to the rest of the Saimori—though it's because of Qian Yunxi's psychic powers rather than the other way around. And just like in My Happy Marriage, her family throwing her at a suitor with a bad reputation actually ends up working out for her in the end.
Lord Ye Wang is also a rather stern love interest. But where Miyo hastens to scrape and please in the beginning because that's all she's ever known, Qian Yunxi takes some more risks. She leads Ye Wang on a merry chase with all her clever disguises.
on bbc news
on hindi news
on the news today
on channel 7 news
ôrf news
campo grande news ônibus
ôpera news
campo grande news greve de ônibus
l1 news horário dos ônibus
l1 news ônibus
lago azul news ônibus
news österreich
news österreich heute
news österreich aktuell
news öffentlicher dienst
news österreich corona
news öl
news österreich orf
news ö3
news österreich heute aktuell
news österreich sport
ö24 news
ölpreis news
öbb news
ösv news
österreich news krone
övp news
özil news
öffentlicher dienst news 2023
österreich promi news